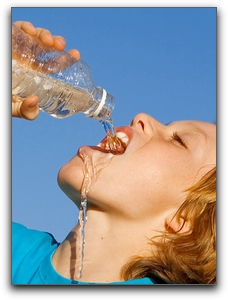 Children, with their smaller body weights and higher turnover of electrolytes and water, are very susceptible to dehydration. Most Punta Gorda parents know to look for the signs of dehydration when their children have a stomach sickness, but even healthy kids are at risk for dehydration, especially when they are outside on warm, sunny days. The risk is particularly high for kids who play outdoor sports in Port Charlotte, Punta Gorda, and Venice.
Since dehydration is such an important issue in children's health, be sure to insist on regular fluid intake before and during all physical activity. Opt for lightweight, loose, and light-colored clothing that covers as much skin as possible. Also, stay in close communication with coaches and make sure they are aware of dehydration risk.
Children who don't exercise much, are obese, or who are sick, have an increased risk of dehydration. It's important to allow all kids to acclimate to the heat when the temperature goes up in Punta Gorda. Let them take it easy for the first few practice sessions.
It's also important to help your kids recognize the symptoms of dehydration:
Thirst
Dry mouth
Headache
Dizziness
Cramps
Excessive fatigue
My name is Lynette Henk and children's health is a top priority of mine. I am the owner of a Punta Gorda home business that sells nutritional chocolate product.   One of my most popular products for children in sports is the Xe Energy Drink.  Grab a 3 pack sample free, just pay shipping.  If you are interested in learning more, visit my web site at liveforchocolate.com.