If you are looking for something fun to do this Saturday, December 6th, you simply must check out Punta Gorda, Florida.  It is a quaint town with amazing restaurants, shops and beautiful waterfront views.  It is located between Sarasota and Fort Myers, not far from North Port, Englewood, Cape Coral and Port Charlotte.
This Saturday, December 6th 2014 is the Punta Gorda Christmas Parade.  You don't want to miss it!  It starts at noon over by Charlotte High School and goes by Taylor street downtown.  One of the best places to park is in the free parking garage downtown near Taylor and Olympia.  Be sure to get there early for the Punta Gorda Farmers Market that runs from 8am-1pm.  The farmers market is held between Sullivan Street and Taylor right in the heart of downtown Punta Gorda.  At the farmers market you can expect to find fresh fruits and veggies, cheeses, smoothies, bakery goods, coffee, Beyond healthy chocolate, homemade wood items from the wood nook, fresh fish, plants and so much more.
Please stop by the Beyond healthy chocolate booth to sample our delicious Belgian cold pressed chocolate.  Gluten free, diabetic friendly and a great choice for those watching their weight, you simply must try it.  We will have $15 sample packs of our healthy chocolates available before the parade so stop by and pick up your healthy chocolate.  We can also ship direct to your door and are able to ship gift packs to your friends and family for the Christmas holiday.
I am Lynette Henk.  I am a Punta Gorda resident and I love it here.  I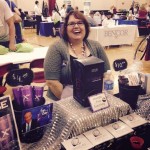 Pualso share the health benefits of Beyond healthy chocolate at the farmers market in downtown Punta Gorda every Saturday and also online at MyChocolateVitamins.com.  Feel free to call me at 941-216-5727.  Hope to see you at the market and the parade!