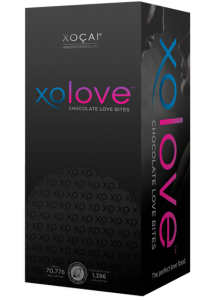 Did you know there really is a SEXY CHOCOLATE?
The PERFECT LOVE FOOD!
Some people even call it Sex Chocolate.
Call it what you want, but these Love Bites increase passion in the bedroom.  Oh yes!
These are the chocolates you want at your house.  Not only are these the Healthiest Chocolates in the World, these are just what you and your sweetheart need in the bedroom.
Learn all about Xo Love Bites in this short youtube video.
You can experience a new level of passion and excitement with XoLove Bites.  
This perfect "Love Food" offers enhanced benefits for sexual health and relationships.
Are you searching for more passion?  
Do you crave more excitement?  
Searching for ways to enhance your love life?
Introducing XoLove Bites, the perfect blend of healthy chocolate, L-Arginine and maca: providing benefits from heart and brain health to improved sexual performance.  Tired of the prescription pill usually not covered by insurance, here is a natural option good for men and women.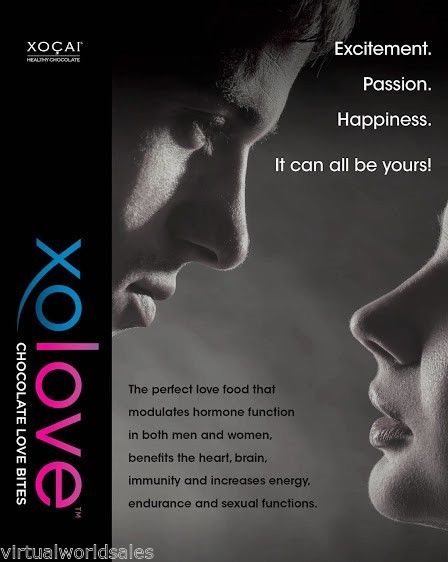 BENEFITS:
-Promotes flexibility in blood vessels
-Improves blood flow
-Helps protect the heart and brain
-Encourages production of "pleasure" chemicals in the brain
-Fortifies immune system -Stimulates mental and physical energy
-Improves mood and emotional health
-helps build muscle mass & improves athletic performance
-Enhances endurance and stamina
Indications
ED, Low Blood Flow, Low Stamina to address the widespread problem of sexual dysfunction, Xoçai® developed XoLove BitesTM. Chocolate has long been identified with passion, love and romance. With that in mind, XoLove Bites feature Xoçai's Healthy Chocolate® as the perfect delivery system for the potent benefits of L-arginine and maca.
ORDER YOUR XO LOVE BITES FOR YOU AND YOUR SPOUSE TODAY.