PERFECT VALENTINES DAY GIFT FOR ANYONE ON YOUR LIST!
Figuring out what to give everyone on your Christmas list can be overwhelming.  When you think you figure out the "Perfect Gift", then you
find out that it is the wrong size, they already have one or that "Perfect Gift" was not so perfect after all.  Factor in the super busy malls, no parking spots and crazy traffic.
No worries, this year give the gift of health that everyone I know loves. No worries if your girlfriend or wife is dieting-This is the good stuff, so good for you and low in calories.  She will be thrilled with this gift idea!
Everyone loves Chocolate and many CRAVE it.
It is a pretty safe bet that chocolate is the perfect gift.  There is a chocolate that is diabetic friendly, gluten free and vegetarian.  Even for those concerned about calories, this chocolate is low in calories.  For the health concious, this chocolate has no waxes, fillers or processed sugars.  It is not cooked like candy chocolate, it is not heated.  This keeps in the antioxidants and flavanols which are important for good health.
Order as a one time gift or give the gift that keeps on giving with our automatic monthly order.  The choice is yours!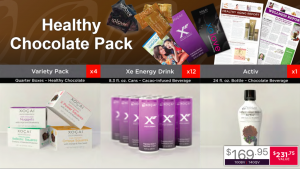 FREE SHIPPING IS NOW AVAILABLE!  
ALSO CHECK OUT OUR VALUE PACKS THAT INCLUDE FREE ADDITIONAL PRODUCT!
ORDER ONLINE HERE OR CALL 941-216-5727 and we can help you with your order.  We are Lynette & Wayne Henk of Three Sons Marketing LLC.  We are here to help.  Interested in starting your own online Chocolate store, we can help you with that too!