We hear a lot about gut health these days.  I recently read an article called "Boost Cocoa and Dark Chocolate Health Benefits at the Gut Level" which talks about th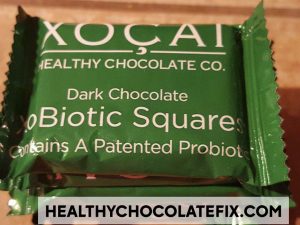 e importance of eating pure healthy chocolate every day for gut health.  I take it even a step further.  Most people are aware of the value of Probiotics.  In fact, many doctors routinely are telling their patients to take a probiotic every day.
"Did you know that the "good" probiotic bacteria in your gut microbiome—the symbiotic cosmos of microbes living in your stomach and intestines—absolutely love cocoa? Not only do they eat it up and grow, they use it to boost your body's probiotic potency and provide a heart-healthy anti-inflammatory effect.' The source of this information came from John Finley, PhD, professor, food science, Louisiana State University, Baton Rouge. His research was presented at the annual meeting of the American Chemical Society.
Additional research was found in PubMed.gov.  regarding the successful combination of probiotics and chocolate.  The article titled "Bacteria and chocolate: a successful combination for probiotic delivery" explains that "data indicate that the coating of the probiotics in chocolate is an excellent solution to protect them from environmental stress conditions and for optimal delivery."
The best of both worlds is to have healthy pure chocolate and probiotics.  I highly recommend Beyond Healthy Chocolates, the Healthiest
Chocolate In The World.  There are many varieties although for gut health benefits I would look at the Xobiotic Chocolate with probiotics.
For more details on Beyond Healthy Chocolate Company Chocolates, visit HealthyChocolateFix.com or call 941-216-5727.  I am Lynette Henk, member of Three Sons Marketing LLC  in Florida.
Bacteria and chocolate: a successful combination for probiotic delivery,
https://www.ncbi.nlm.nih.gov/pubmed/20452073, Int J Food Microbiol. 
2010 Jun 30;141(1-2):97-103. doi: 10.1016/j.ijfoodmicro.2010.03.008. Epub 2010 Mar 24
http://bottomlineinc.com/boost-cocoa-and-dark-chocolate-health-benefits-at-the-gut-level/