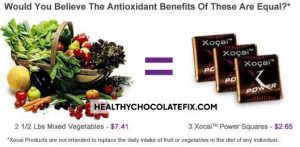 I love sharing Healthy Chocolate with the world.  I have shared it at events and at local farmers markets in Punta Gorda, Florida.  The great thing is that you can order Beyond Chocolates direct and shipped direct to your door no matter where you live in the United States and in 40 countries including Canada and Japan.
One question that comes up regularly is how many Weight Watchers points are in the Beyond Chocolate?
This is a great question and one I figured I should cover in my post.
[shock_spots id="7564″]
The Beyond Power Square is one of my all time favorites.  It is just 33 calories and 1 weight watcher point.  This is something you can easily incorporate in your Weight Watcher Diet goals.  If you look at the photo above, you will see that 3 Beyond power squares a day are equal to eating 2 1/2 pounds of mixed vegetables!
So much easier to eat Beyond Healthy Chocolates!
Questions?  Call us at 941-216-5727 or visit us at HealthyChocolateFix.com.