If you have been following my blog, you know I am a believer in Healthy Chocolate.  XO Healthy Chocolate has given me energy I have not had since diagnosed with fibromyalgia years ago.  I started the X-Protein Meal Replacement Shake just once a day and had a few pieces of healthy chocolate each day.  I drink lots of water, exercise at least 20 minutes a day and eat snacks and try to eat fairly healthy.  What I am not doing is starving myself.  This has become an easy way to eat healthy and lose weight at a healthy pace.
If you have more than 25 pounds to lose,  you may wish to replace 2 meals a day with the high antioxidant shake.  It is shocking to me how successful my weight loss has been.
Now is the time to hurry and get in on this amazing High Antioxidant Chocolate Plan.  It is time to lose those unwanted pounds once and for all.  This has been more successful than any diet I have been on in the last 30 years.   You owe it to yourself to check this out.
With the NEW Associate Weight Loss Pack You Receive;
Quantity
1          Enrollment Fee and Kit
2          High Antioxidant Shake
1          1/4 Case Nuggets (FREE)
1          1/4 Case X-Power Square (FREE)
1          "Radically Free" with Beyond Healthy Chocolate Diet Lose Weight on the weight loss diet eating chocolate nuggets and power squaresby Dr. Mike Kennedy
Even better, when you sign up, choose "Autoship".  This will ship you a product of your choice once every 4 weeks.  For every 3rd Autoship for the first year, you will receive a FREE extra product.  (All you pay is shipping)  So in one year, you will receive 4 free products of your choice.  Between the new weight loss pack and this subscription
promotion, this is a great deal.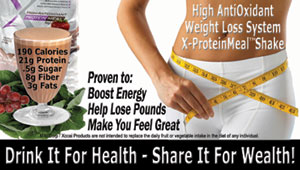 Even better, share this with your friends and you can earn money from home!  Awesome home based business.  What a great way to get yourself healthy, help others get healthy and get wealthy at the same time!
This is great if you just want to consume XO and it is also a great business opportunity.  Don't miss out.  This is a great opportunity to lose weight.  Who knew dieting could be so easy?
Order your Associate Weight-Loss Pack here!  Feel free to contact me with any questions.  Lets all lose some weight together! Email [email protected] or call 941-216-5727.