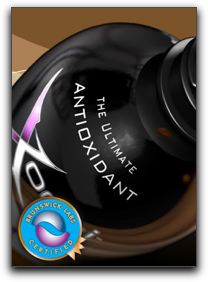 I am Lynette Henk, a Healthy Chocolate Consultant in Punta Gorda. I am excited to tell you about XO Activ drink.
Of course the ingredients in XO Activ drink are nutritional powerhouses: unprocessed cacao, acaí berries, blueberries and concord grapes. (I would expect no less from XO, the original antioxidant chocolate company.) However, what Activ does not contain is equally important.
XO Activ has NO:
Added colors
Artificial flavors
Preservatives
XO has formulated Activ for the Punta Gorda purist who wants an all-natural energy drink with the highest antioxidant content of any drink sold in Punta Gorda.
Even though Activ contains no preservatives, you don't have to worry about it spoiling. It is sold in powdered form which keeps for a year without losing its nutritional value. To make a delicious chocolate health drink, add ten ounces of warm water to the Activ powder and shake well. Then add eleven ounces of cold water and refrigerate overnight. Some of my Port Charlotte Activ drinkers like their shake a little thicker so they add slightly less water.
My active Punta Gorda and North Port Activ lovers who are always on the go appreciate the fact that Activ dark chocolate drink comes in powdered form. It is lighter than bottles or cans of liquid and takes less space in a backpack or suitcase.
Activ is the ultimate antioxidant beverage for the active SW Florida lifestyle!
If you would like an Activ XO review or information about other XO products such as XO Power Squares, come join me at my next Punta Gorda XO meeting.
Call me at 941-216-5727 or email me at [email protected] and I will let you know the time and place and answer any questions you may have about XO antioxidant chocolate.