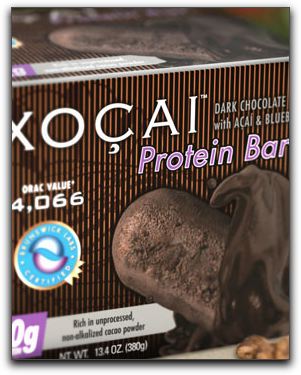 Are you a Punta Gorda protein bar eater?
If so, you are probably more health-conscious than the average Joe. Otherwise, you would just have a Snickers, right?
Protein bars usually deliver more protein and contain less fat than candy bars. However, there is a Port Charlotte chocolate protein bar that is clearly superior. The XO Healthy Chocolate Protein bar has the greatest concentration of antioxidants of all protein bars sold in SW Florida. And that's not all. The XO bar is low-calorie, low fat, and high fiber.
Not all XO Protein Bar fans are hard-core athletes. It is a multi-purpose health bar enjoyed in different ways by different types of Port Charlotte Well Beyond chocolate consumers. I have Punta Gorda XO clients who eat the XO Protein Bar as a low-calorie, high-energy, weight-loss bar. It tastes so much better than Slim Fast and NutriSystem.
Smart Punta Gorda parents keep XO Protein bars in the car for their children to snack on. Who says your kids have to eat low-fiber Goldfish crackers and high-sugar fruit snacks?
Some of my SW Florida XO customers who leave the house in a rush eat the XO protein bar for their early morning meal. Most breakfast bars, granola bars, cereal bars, and fruit bars do not have enough protein to adequately replace a meal.
And it goes without saying that the XO Protein Bar is a wiser choice than doughnuts, cinnamon rolls, or croissants. Ditto for the Egg McMuffin, Burger Kings' Croissan'Wich, and Subway's Cheese Breakfast Sandwich. (If you want to lose your appetite, read the fat, sodium, and calorie content information for these popular fast-food breakfasts.)
To try the XO Antioxidant Chocolate Protein Bar or XO Power Squares, call me today. We can also discuss the incredible XO financial opportunity.
Here is my contact information:
Healthy Chocolate Consultant Lynette Henk
Punta Gorda, Florida
941-216-5727
High-Antioxidant Protein Meal Replacement