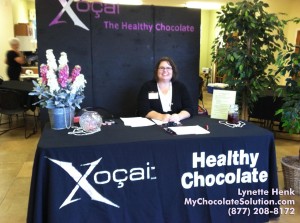 I bet you have been thinking about starting your home based business for some time.  You are tired of working for others and you know there are significant tax advantages to owning your own business.  So what has stopped you from taking the plunge and starting that business?
Unfortunately life does seem to get in the way and many of us feel there is never a right time to get started.  There is always going to be something or someone telling you to wait and hold off.  I am here to tell you that waiting and holding off on your dream of having your own business is a mistake.  It could be a huge mistake.  There honestly is never a right time.  Take the plunge and move ahead.  Do it now!
That is exactly what I did with my healthy chocolate business.  The time was never going to be perfect so I just decided I needed to do it now.  Sometimes we need to push ourselves so we can attain and exceed our dreams.  Right now, I am getting ready to pack for my first XO cruise that I earned sharing healthy chocolate with others.  If I had decided not to get started, there would be no free cruise, no improved health and no income earned from my business.  I would love for you to join me on our next XO cruise and this is something you can do.  My healthy chocolate business has an amazing compensation plan.  You really can do this. The key is to get started with a team that cares about you and wants to help you succeed.  This is what I have found in XO.  No matter how successful individuals become with XO, they always go out of their way to help the team succeed.  Now that is the kind of business you want to be in.  The kind where someone has your back.
The thing about healthy chocolate is that it is unique.  You can't find this in your local stores, the products are covered by a patent and nobody else is making these.  Even better, these products are high antioxidant superfoods that are truly good for you and backed by science.  Our XO meal replacement Fearless28 diet shake was even featured on the cover of the American Journal of Bariatric Medicine for its successful chocolate polyphenol diet.  When you share this with others, you know you are helping improve their health and when they get started in the business, with their wealth too.  I can think of no other business I would rather be in.
Join me.  I am looking for go getters who want to start a successful business.  It does not matter if you want to work part time or full time.  As long as you are willing to commit to working your business just like any other job, you can be successful.  Another great thing about XO is that it does not require a small fortune to get started.  For those that checked into a franchise or other business options, most require a minimum of $500,000 to get started and still don't expect to earn any profit for at least three years.  Here is an opportunity that is so affordable, that pretty much anyone can do this. We are talking about $39 to join and whatever product you want to start with.  You will need a minimum of two full size products to get started although most start out as business builders and order six products.  Now remember, these business costs are usually tax deductible so you will want to save your receipts and check with your tax advisor at tax time.
Don't make the mistake of holding off on your dreams yet again.  You deserve to be happy, you deserve to succeed.  You can make this happen if you just believe.  And, right now through 12/1 you can get a buy 2, get 1 free deal giving you free product to help you succeed in your new business venture.  (No coupon or discount code needed)
I am Lynette Henk, XO member.  I can be reached directly at 941-216-5727, at [email protected] or at MyChocolateVitamins.com.