I just attended the Mastermind Network Marketing event in Orlando, Florida where over 3000 network marketers from around the country have converged to be trained by the best and most successful network marketer in the business.  My favorite trainers so far are Art Jonak, Randy Gage, Orrin Woodward, Darnell Self and Chris Brady.  The caliber of trainer is nothing short of exceptional.  These are highly successful entrepreneurs that get together once a year to give back to the network marketing community.  The fact that network marketers in many Network Marketing businesses can all get together and learn from the best is amazing and the mastemind of Art Jonak.  This was my first year attending this event and it certainly will not be my last.
Network marketing is a great way to start a home based part-time business.  Many will go on to a full time income and career in network marketing.  If you are unhappy with your current career path or the income level your current job provides, or are looking for a way to supplement your social security retirement income,  you may want to consider what network marketing can provide for you and your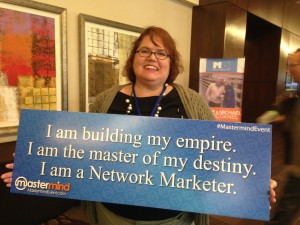 family.  Network Marketing is about leverage and living life to the fullest.  Just like Paul McCartney earns residual income every time his songs are played on the radio, you can earn residual income as well.  According to the Forbes article is MLM a bad word, "MLM is a marketing strategy in which the sales force is compensated not only for sales they personally generate, but also for the sales of others they recruit, creating a downline of members and a hierarchy of multiple levels of compensation."
This business model can generate a serious income over time which is why so many start their business part-time and quit their job once they are earning a full-time income and beyond.   I started my Beyond healthy chocolate business as a part-time venture as well over four years ago.  I am Lynette Henk, Gold executive with Well Beyond Chocolate Worldwide/Beyond chocolate.  Contact me to find out how you can quickly grow a great opportunity with a company with amazing high antioxidant healthy chocolate products and Well Beyond anti-aging products, a debt free company, amazing compensation plan and an upline that truly wants to help you succeed.
Contact Lynette Henk at 941-216-5727, email [email protected] or visit MyChocolateVitamins.com for more information.  Those who sign up as an associate or business builder receive a Buy 2, Get 1 Free special.  Contact me to set up your business start-up interview.
Forbes, "Is MLM a Bad Word?" by Jody Greene, http://www.forbes.com/sites/chicceo/2012/09/27/is-mlm-a-bad-word/