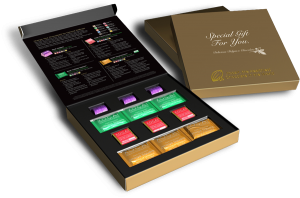 With all of the wonderful cooking shows on cable and satelite tv, more and more of us are become self-professed foodies.  We are more knowledgable about food than ever before.  That said, how do you find the perfect gift for the favorite foodie on your Christmas or Holiday list?
Chocolate comes to mind as an easy gift idea however what chocolate qualifies as something a foodie would appreciate?
Good Question.
Premium dark chocolates have been a popular gift giving choice around the holidays, special ocassions and birthdays.  The premium choices are usually Belgian Chocolates.  There are a few brands highly regarded but ultimately they remain candy with waxes, fillers and processed sugars.  Because candy chocolate has been cooked at high temperatures and usually dutched for days to get the creamy texture we love, it also loses much of the antioxidant and flavonoid values that make it healthy.  There is a Chocolate company offering something quite unique.  They are using a patented process to cold press the chocolate, not heating it like candy.  This keeps in the antioxidant and flavonoids which make raw cacao a superfood.  This is ideal because now you can eat chocolate without concern.  Simply change your chocolate.  The antioxidant values of this brand are off the charts and this company regularly has the total ORAC6 and flavonoids ICT Certified.  Just one individual Belgian chocolate Xobiotic square (my favorite) has an ORAC6 score of 74,151 and 1,056 mg flavonoids.
Clearly this is the treat of choice for your favorite foodie.  Order your Beyond Healthy Chocolate Co. chocolates here.  From 11/26-11/30, you can take advantage of the Black Friday Thanksgiving specials and get a buy 2, get 1 free deal on any of the Beyond healthy chocolate Co. products including the Xe healthy energy drink Bill O'Reilly raved about as his tip of the day on the O'Reilly Factor as well as the Beyond Beauty Cream anti-aging skincare and my personal favorite Xobiotic chocolate with probiotics to help keep the digestive system healthy.  (Very important for foodies!)
[shock_spots id="7614″]
Order your healthy chocolates at MyChocolateVitamins.com or call 941-216-5727.  Those that order monthly also receive free product equal to the monthly purchase every third month for the first year.  (No obligation but a great deal)
[vop id="6″ video="" ]