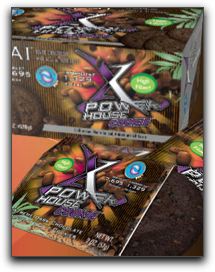 Many Punta Gorda people still believe the following fallacy: 'If it tastes good, it must be bad for you.' Port Charlotte folks who have tried XO Power Squares or Nuggets know that some health chocolate is delicious. But what about healthy chocolate chip cookies? Achieving perfect cookie texture can be tricky, even when using traditional heart-clogging ingredients. Successful baking requires a degree of precision not necessary in many other types of food preparation.
XO figured out how to make a chocolate nutrition cookie with all the necessary elements: correct chip/cookie ratio, satisfying texture, proper sweetness level, and genuine chocolate flavor.
X Powerhouse cookies are loaded with antioxidant chocolate chips, natural sweeteners and (surprise!) fiber. What do XO X Powerhouse cookies lack? Refined sugars, trans-fats, chemicals and the guilt factor.
Snacking on X Powerhouse Cookies can help break the cycle of unhealthy dietary habits. You and your family can still experience the great taste and decadence of a snack food without suffering the dangerous health consequences. XO is the chocolate nutrition company for SW Florida families who are trying to live healthier.
I am Lynette Henk, an independent Punta Gorda XO member. XO antioxidant chocolate products are helping my family live healthier. If you eat chocolate regularly, you may want to try XO. My phone number is 941-216-5727. I love to share XO with SW Florida chocolate lovers who want to replace the bad with the good.
Give me a call if you have questions about XO dark chocolate or the XO North Port business opportunity.