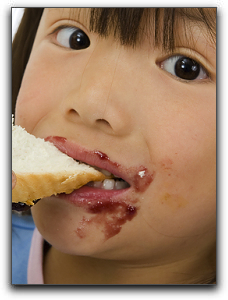 The American Academy of Allergy, Asthma and Immunology estimates that around eight percent of U.S. kids are affected by food allergies.
Eight foods account for most children's food allergies in SW Florida: eggs, fish, milk, peanuts, shellfish, soy, nuts, and wheat. Strawberries and tomatoes can also cause food allergies in young Punta Gorda kids, though generally not in adults.
Type and severity of allergy symptoms in SW Florida kids vary, but may show up as itchy eyes, nose or throat, trouble breathing, gastrointestinal upset, or hives.

If you suspect your child may have a food allergy, keep a food journal of everything he or she eats (including beverages) for a week to show your Port Charlotte pediatrician. To confirm the diagnosis, your doctor may scratch the skin with a small amount of an allergen to observe the reaction.

To learn more about children's health in SW Florida or to inquire about the nutritional superstar XO Power Squares, contact my office today.
Lynette Henk
941-676-7300
http://liveforchocolate.com