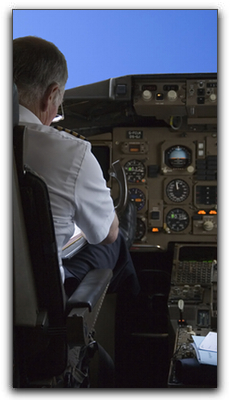 Years ago, I remember hearing about an entrepreneur who ran a multi-million dollar construction company from her studio apartment, using a small closet as an office. Of course this was only the administrative headquarters, the heavy equipment was kept elsewhere.
I was impressed by this thrifty home business owner who said she had no plans to rent space and increase her operating costs as her company grew: she loved her little closet office and made it work.
My fellow power squares home based business owners enjoy the benefits of operating their own business from their Naples home: unlimited income potential, flexibility, and being their own boss. Some new team members recruited from the corporate world are initially skeptical about being able to run their business from a small home or apartment. Today's article is about working in a small home office.
Think of yourself as an astronaut in a cockpit with all the controls at your fingertips. How is a cockpit organized? There are buttons and switches on every level, but all accessible.
Get a desk that fits your space. Corner desks can free up space not ordinarily used.
Office chairs with rollers let you easily access items within arm's reach without having to stand up.
Shelves, shelves, shelves! Use all that prime vertical real estate on your walls.
Get a paper shredder and use it.
A paper shredder takes up some room but frees up space previously populated by papers you don't need anymore. For example, invoices or sales orders that have been entered electronically. Some super-organized power squares team members regular schedule paper-shredding into their weekly agenda.
One drawback of small home offices is the difficulty of holding meetings. It is hard to remain professional when inviting a client to your home office that doubles as a laundry room. You can solve this by holding large business meetings in rented Naples conference rooms. Small meetings can be held over lunch or breakfast in business-friendly Tampa restaurants. (Check for internet access before scheduling.)
Before you head out to your nearest Tampa Office Max to buy a rolling chair, desk, or shelf unit, take measurements of your space. This may save you a trip to return an item that doesn't fit.
I am Healthy Chocolate Lover Lynette Henk. Working at home running my XoVitality Anti-Aging Capsules online business lets me work and play everyday. If you are stuck in the 9-5 lifestyle, let's talk. My XoVitality Anti-Aging Capsules& Beyond Beauty Cream team are currently seeking serious Tampa entrepreneurs. -Lynette
Healthy Chocolate Lover Lynette Henk
Punta Gorda, Florida 33983
941-216-5727 [email protected]
XoVitality Anti-Aging Capsules power squares
Join Our Team today!
I am Lynette Henk, and I am a Punta Gorda-based XO artisan chocolate member. I joined XO in May 2010. I sell the industry-leading XoVitality Anti-Aging Capsules and power squares online and in Punta Gorda, Miami, Tampa, and Sarasota. Our valued Naples customers recommend power squares because power squares is a great way to get the antioxidants you need to stay healthy.
Our Team is also a fantastic XoVitality Anti-Aging Capsules home-based business in the Naples area. Florida entrepreneurs can supplement their income by cashing in on a high-demand Florida healthy artisan chocolate market. To learn more about Our Team, visit http://LiveForChocolate.com.
Call me at 941-216-5727 to own your own XoVitality Anti-Aging Capsules business in Punta Gorda, Miami, Tampa, or Sarasota.