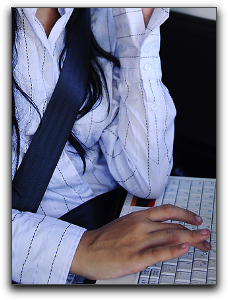 If you are a busy Naples home based business owner, you may have noticed that your work-at-home job has turned into a work-in-car job. I have been operating a direct marketing business out of my Punta Gorda home since May 2010, but I spend a considerable amount of time on the road in the 33980 and 33983 zip code area.
One day, I realized that the back seat was covered with power squares samples, the floor was covered with XoVitality Anti-Aging Capsules brochures, and the dash was covered with sticky notes.
I have a beautiful office in my Punta Gorda home: it is organized, comfortable and well-supplied. Why couldn't I create a mobile version of my home office in my car?
I got to work. I headed out to my closest North Port office supply store. I purchased a hanging file folder for paperwork and sturdy plastic boxes to organize samples in my trunk. (One of my power squares team members uses heavy cardboard banker's boxes to hold samples. She thinks they are easier to label.)
Next I had to tackle the little stuff: paper clips, sticky notes, and pens. I found that cup holders can be great organizers.
If you want to invest in gadgets for your car office, there are endless possibilities:
Car desks that are secured with a seat belt
Car printers
Wireless mouse you direct with your thumb
Device that turns your cigarette lighter into a USB port
To be a successful Beyond Beauty Cream & power squares network marketer in Punta Gorda, It is important for me to be ready when a sales or recruiting opportunity unexpectedly presents itself. Now that my car office is organized, I am much better at capitalizing on these opportunities.
To learn how to expand your Naples MLM network, call me today. The power squares & Beyond Beauty Cream anti-aging skin care opportunity is providing residual income for Naples entrepreneurs just like you.

Healthy Chocolate Lover Lynette Henk 941-216-5727 [email protected]
Punta Gorda, Florida zip code 33983
P.S. It may be a good idea to tell your Naples auto insurance provider that you use your car for more than commuting. Some carriers don't cover claims for vehicles that are used as mobile offices. Discuss your situation with your insurance agent to protect yourself and your home based Punta Gorda business.
Create health & wealth with XO healthy chocolate products.
Join Our Team today!
I am Lynette Henk, and I am a Punta Gorda-based XO healthy chocolate member. I joined XO in May 2010. I sell the industry-leading XoVitality Anti-Aging Capsules and power squares online and in Punta Gorda, Miami, Tampa, and Sarasota. Our valued Naples customers recommend power squares because power squares is a great way to get the antioxidants you need to stay healthy.
Our Team is also a fantastic XoVitality Anti-Aging Capsules home-based business in the Naples area. Florida entrepreneurs can supplement their income by cashing in on a high-demand Florida healthy artisan chocolate market. To learn more about Our Team, visit http://LiveForChocolate.com.
Call me at 941-216-5727 to own your own XoVitality Anti-Aging Capsules business in Punta Gorda, Miami, Tampa, or Sarasota.