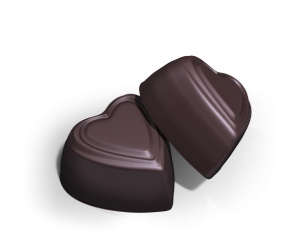 Well Beyond Corporation, the makers of XO Healthy Chocolate have truly hit a home run with their new product called "XoLove Bites" to be available in May of 2014 . These heart shaped love bites are not like any chocolate you have ever had in your life. Called Aphrodisiac chocolate or the chocolate of love, these healthy cold pressed love bite chocolates offer some amazing benefits for both men and women.
Below are just a few of the potential benefits of XoLove Bites™:
• Promotes flexibility in blood vessels
• Improves blood flow
• Helps protect heart and brain
• Encourages production of "feel-good" chemicals in the brain
• Promotes improved sexual health
• Enhances cellular communication
• Fortifies immune function
• Stimulates mental and physical energy
• Modulates hormone production/activity
• Enhances endurance and stamina
• Neutralizes free radicals/slows oxidative stress
• Provides powerful antioxidant protection
Every adult man and woman will be craving these XoLove Bites by XO Healthy
Chocolate, mark my words! XO Healthy Chocolate products are currently available with a healthy chocolate nugget, power square, Xobiotic and Omega Square. These are not like candy chocolate as a patented process cold presses the chocolate and keeps in the antioxidants of the raw cacao making it a super food.
Currently the only way to pre-order the new XoLove Bites is to be a wholesale member. If you are looking for a business opportunity, this may be just what you are looking for.  members can pre-order now and receive their product as early as March of 2014 at regional events.  Imagine getting paid to share and enhance couples lives with this aphrodisiac chocolate! This is sure to benefit couples across the globe.  It is affordable to become a member, as the cost is only $39 and the product you purchase.  Most members get started with six boxes as a business builder, but you can start with as little as two boxes.
I am Lynette Henk, XO healthy chocolate member. You will want to get involved in this business before the demand of the XoLove Bites is overwhelming. Now is the time to position yourself for success with this debt free company in business over 8 years. We are still accepting business builder applications at this time. Hurry and get in while you can. I can be reached at 941-216-5727, at [email protected] or at LiveForChocolate.com.