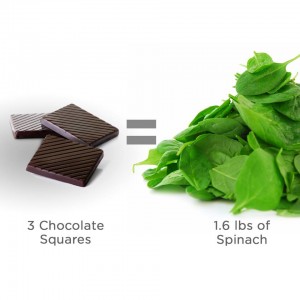 Dark chocolate is in the news nearly every week.  A new study or a new article showcasing the benefits of the antioxidants in dark chocolate clearly show it can be a healthy option for your diet.  "A recent article states Harvard Doctors say that chocolate boosts brain power." One of the doctors was quoted as saying  "Based on this study," said Dr. Randal Thomas, an internist at the Mayo Clinic, "I'll mention to my patients that a small amount of chocolate may help reduce cardiovascular risk by reducing blood pressure."
But did you know that not all dark chocolate is the same?  Yes, most individuals realize that you pay more for higher quality premium chocolate with a high cocoa content but did you know that the processing of the chocolate is really what matters?  Most chocolate is dutched or heated to eliminate the bitter parts of the chocolate.  This process unfortunately gets out many of the antioxidants which are so beneficial for our health.  The key then is to find a chocolate that is cold pressed, not heated or dutched so it can retain the natural health benefits of the raw cacao.
Most candy chocolate also contains waxes and fillers as well as processed sugars that lessen the health benefits and add to the calorie content.  This chocolate is also diabetic friendly and gluten free offering healthy options to many.  My family has been enjoying XO healthy chocolate for the last four years.  The improved health benefits we have experienced by increasing our antioxidant content has been nothing short of amazing.  What you eat really does matter.  If you are not eating enough fruits and vegetables, XO healthy chocolate products are a great way to get the antioxidants you need.  Dealing with any helth issue or crisis, most illness responds well to antioxidant therapy.
The next time you see that article about the health benefits of dark chocolate, make sure the chocolate you are putting in your mouth is the kind that is cold pressed and healthy.  Try the best, enjoy XO cold pressed healthy chocolate.
I am Lynette Henk, a XO member who shares the health benefits of increased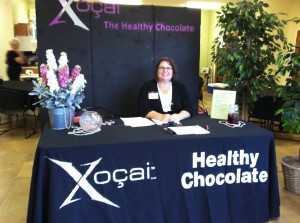 antioxidants.  Keep yourself healthy and enjoy a treat.  You deserve XO chocolates.  Our new Xolove chocolate love bites, the perfect love food for couples is also available for order.  All preferred customers receive free shipping on orders.  In addition they qualify for free product every third month when they continue to order monthly.  I recommend ordering as a preferred customer or wholesale.  Wholesale members get paid to share this amazing chocolate.  Ask me for the details!  I can be reached at 941-216-5727, at [email protected] or atLiveForChocolate.com.
Chocolate makes you smarter study says, Boston Magazine by Melissa Malamut 8./8/2013  http://www.bostonmagazine.com/health/blog/2013/08/08/more-reason-to-love-chocolate/