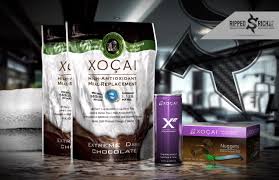 I am excited to get started on a new challenge to finally lose the rest of the weight I have been carrying around.  There is a new Ripped & Rich fitness program that has challenged me.  It is actually quite a deal.  When you order the Ripped & Rich fitness pack you receive 2 bags of the XO chocolate protein shake, 12 of the Xe energy drinks and a small box of XO healthy chocolate nuggets.  There are recipes for the shake, for breakfast, lunch, dinner and snacks.  I have to say when I saw the recipe for Apple Fritter Muffins I knew I could do this.  There are so many yummy and healthy recipes that sound amazing and are healthy.  For those who are gluten free, there is an awesome gluten free diet and recipe plan to follow.
Basically, you determine if you want to get ripped or lose weight like I am going to do.  I have over 75 pounds to lose so that is my goal for 2014.  What is your fitness goal?  If you want 2014 to be the year you get in shape, this Ripped & Rich program is just what you need.  Simply order the monthly pack and you will have access to amazing workouts, exercises and meal plans to get you in the best shape ever.  Hurry and order now so you can get started the beginning of the year.
Join us for a fun 8 week transformation contest with over $30,000 in cash and prizes to
anyone ready to play!  We have a personal nutritionist to help you eat right and a personal trainer to help you with a customized fitness plan that meets your needs no matter what your level of fitness and goals.  Even better, share this with others and you can not only get ripped and fit but rich as well.  Click here to get started now.
I am Lynette Henk, Ripped & Rich member.  I can be reached at 941-216-5727, at [email protected] or visit GetRippedandRichNow.com.  I would be happy to share how you can earn serious money and get fit in the process!