There is no question that dark chocolate is healthy.  The key to getting flavonoid rich chocolate is to buy the cold pressed chocolate that has not been cooked or dutched.  Beyond healthy chocolate has a patented process that does not heat the chocolate.  This makes their chocolate the highest antioxidant product that I am currently aware of.  It is even higher than the acai berry which is number two.
The flavonoids mg content of Well-Beyond chocolate products including their nuggets, power squares, healthy peanut butter cups, Xobiotic and Xo Love Chocolate love bites are listed on every box right on the front along with the antioxidant content.  Beyond chocolate products have the antioxidant and flavonoid content verified by a prestigious lab on every box of their chocolate.
My favorite Beyond chocolates are the Xobiotic Squares with probiotic to help keep digestive systems healthy and help to maintain a healthy intestinal balance.  The flavonoids mg content of the daily serving, 3 pieces, is 1,904!  Tha ORACfn (antioxidant) is 84,777 for 3 pieces.  This is verified by Brunswick Labs.
Now that you know where to get the best chocolate for you, you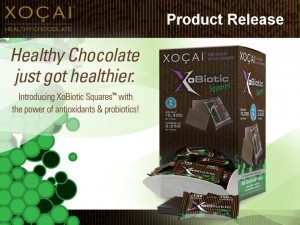 need to find out how to get the best price.  Wholesale pricing is available to members at the associate or business builder level.  This week we have a great sale for wholesale members.
Hurry and order with wholesale pricing today!  Any questions, call Lynette Henk at 941-216-5727, email [email protected] or visit my site directily to order at MyChocolateVitamins.com.  Just wait til you see how much better you feel with increased antioxidants and flavonoids.