I am so excited to share with you this wonderful news from Dr. Gordon Pedersen, an anti-aging physician and expert when he was in Norway.  He talks about a dark chocolate skin care line called Xophoria and how it helps your skin and your mood.  I have been using the Beyond Xophoria anti-aging skin care cream for years and it is the best product I have ever used on my skin.  I have recently turned 50 and people still think I am in my early thirties.  I highly recommend you try it.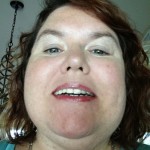 I have sensitive skin and have many freckles.  As I aged, I started getting age spots on my hands and my face.  I was able to get rid of most of my age spots just by using Xophoria morning and night.  I also have the smoothest skin and I no longer see the laugh lines and crows feet that I used to have.  See for yourself, my photo is on the left and I just turned 50 this May.
Dr. Gordon Pedersen has formulated many products.  He also came up with a cure for malaria and I consider him to be one of the top specialists in anti-aging.  In this video Dr. Pedersen also talks about the Beyond Xobiotic dark chocolate and the Beyond protein meal shake.  These products are available directly at GoColdPressed.com or you can contact me at 941-216-5727 for more specifics.  The Xobiotic chocolate is a cold pressed dark chocolate with a probiotic.  The protein shake has 21 grams of protein in one serving and over 56,000 ORACfn, the amount of antioxidants in just one serving.
Contact me directly if you would like recipes for the shake.  There

are many yummy recipes but my absolute favorite is creamy peanut butter and banana made with a frozen banana, ice, water, the shake mix and a little bit of peanut butter.  Tastes amazing and talk about energy!
[shock_spots id="7569″]
I am Lynette Henk, I am a Gold Executive with The Healthy Chocolate Co., makers of Beyond healthy chocolate products.  I got involved with the Healthy Chocolate Co., when I realized the products were really making a difference for my family.  Increasing antioxidants strengthens your immune system.  Antioxidants are what is found in fruits and vegetables.  If you are not eating your 8-10 servings a day, why not get your antioxidants in chocolate.  Chocolate skincare, Chocolate squares or a Chocolate protein shake.  Visit us direct here.