We hear about probiotics quite often but do we really understand why we need them in the first place? According to the article "Probiotics: One of The Most Important Supplements You Can Take" by Dr. Mercola, probiotics are vital. In fact, Dr. Mercola feels that "Probiotics are also essential for optimal digestion of food and absorption of nutrients, and they help your body produce vitamins, absorb minerals and aid in the elimination of toxins."
I have heard that teaching hospitals routinely give out probiotics when giving antibiotics, although most community hospitals don't normally do this. Keeping your gut healthy is important in staying healthy in general. Unfortunately stomach problems, acid reflux, GERD and illnesses that require antibiotics can damage our gut flora putting our health at risk. An easy way to protect your gut health is to consume a probiotic supplement daily.
There are many types of probiotics available, some at your local health food store that must be refrigerated and some in yogurt and other foods including dark chocolate.  According to the International Journal of Food Microbiology study "Bacteria and Chocolate:  A Successful Combination For Probiotic Delivery" dated June 30th, 2010 the findings are quite interesting.  In fact, chocolate provided superior protection for the probiotic to go where it needs to be into the colon.  For this reason, my family takes their daily probiotic supplements in Xobiotic chocolate. This is a form of dark chocolate that is cold processed, meaning it is not heated or dutched like candy chocolate you find in stores.  This is a great combination because you get the probiotic value and a very high antioxidant content in one little piece of dark chocolate.  Well Beyond, the makers of the Xobiotic use a patented process that keeps in the antioxidant value of the raw cacao.  Just one individually wrapped Xobiotic chocolate has a total ORACfn score of 28,259 per piece.  The flavonoid value is 634mg.  This is off the charts and a great way to get the antioxidants your body needs to lower inflammation.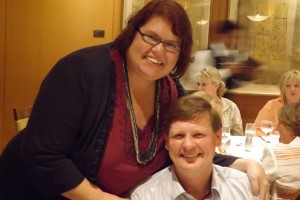 It is clear that each individual and family needs to be aware of the type of food we put in our body. Avoiding processed foods as much as practical and eating more raw foods, incorporating antioxidants and probiotics in your diet daily is a smart choice. Xobiotic chocolates and other Beyond Healthy Chocolate Company chocolate products are diabetic friendly, are gluten free, GMO free and safe for pregnant women and children 6 months old and up. I recommend them for my family and yours. I also highly recommend them for children going off to college who will be living in the dorm or other close living arrangement as eating lots of antioxidants is good for the immune system. I send my son off to college with Xobiotic chocolates. I have him eat three pieces a day, spaced out morning, mid day and evening. That way, no matter what he is eating, I know he is at least getting a good amount of antioxidants and his probiotic. Interesting how my son does not get sick when his friends and roommates get sick. Most of them get sick within the first month of school starting. Their education is way too important to take the chance of getting sick.
More information on Beyond Healthy Chocolate Co. Xobiotic chocolates is available at GoColdPressed.com.  You can also reach us at 941-676-7300 or order a sample at SampleChocolates.com.
One of the Most Important Steps You Can Take To Improve Your Health by Dr. Mercola, http://articles.mercola.com/sites/articles/archive/2011/09/24/one-of-the-most-important-steps-you-can-take-to-improve-your-health.aspx
Bacteria and chocolate: a successful combination for probiotic delivery. Possemiers S, Marzorati M, Verstraete W, Van de Wiele T.;Int J Food Microbiol. 2010 Jun 30;141(1-2):97-103. doi: 10.1016/j.ijfoodmicro.2010.03.008. Epub 2010 Mar 24. PMID:20452073; http://www.ncbi.nlm.nih.gov/pubmed/20452073