Thoughts on the Chocolate Diet Challenge

Today I just started week 3 on my Beyond Healthy Chocolate diet plan. I am doing surprisingly well which I am happy to say.  Hard to believe it,  but I am not craving sweets or struggling with my diet very much.  For some reason day 15, today,  has been the only day I struggled and honestly that was not so bad.  I was able to combat this by having a few extra pieces of Belgian Healthy Chocolate.  At 35 calories a power square, it did not affect my calorie figures much at all.
I am replacing 2 meals a day with my protein shake, I have a healthy "normal" average 600-700 calorie meal and I have been enjoying cold pressed dark Belgian chocolate for cravings for a total of 1200 calories a day. (1500 for guys). I lost 3 pounds the first week and another 3 pounds for week 2.  I am just starting week 3 and weigh in once a week on Monday. I love that I have still been able to eat out with friends or my hubby,  just being super careful with my menu choices.
I like that this diet was featured in a medical journal and that the average participant in the study lost 31 pounds in just 12 weeks. Hoping to do the same!  
What I like the best is the crazy amount of antioxidants and flavanols in my shake, over 56,000 ORACfn, along with 21 grams of protein per serving. If you are into eating healthy, you know that antioxidants are found in fruits and veggies and this is a crazy amount. No wonder it gives me energy and lessens my pain from my chronic health issues. I would also say this is great for my mood!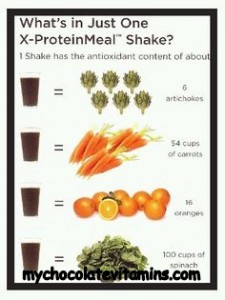 Still time to join me.

🙂 details at ChocolateDreamDiet comment below or message me.  You can affordably get started at $75 to try it out. I also recommend including healthy chocolates for cravings.
#getleanin2017 #chocolatediet #xocai