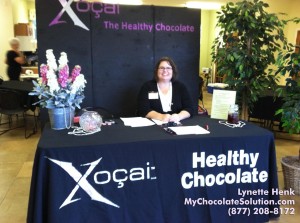 Healthy Chocolate Co. is expanding to Colorado Springs!  
Join us at the Colorado Springs Regional Beyond Healthy Chocolate Event in May of 2017.
My name is Lynette Henk of Three Sons Marketing LLC and I have been involved with the Healthy Chocolate Co. over six years now.  It started simple enough,  I walked into a health food store near North Port, Florida and someone shared this unheated dark chocolate with me called Beyond Chocolate.
They even told me this chocolate was HEALTHY and that I COULD LOSE WEIGHT EATING CHOCOLATE!  
REALLY!
Fast forward.  I did not believe there was such a thing as "HEALTHY CHOCOLATE" so I researched it to prove they were wrong.
Come to find out I was the one who was wrong.  This Patented Belgian Chocolate truly is healthy.
Within days of eating this Healthy Chocolate three times a day, I was sleeping better.  The next month I had more energy and my mood had improved. These are amazing things since I had been suffering with Fibromyalgia and Chronic Fatigue for YEARS!   I started feeding this Chocolate to my Autistic son with dramatic results.  Even my husband noticed the benefits when he started eating this specific kind of Dark Belgian Chocolate.
Well I majored in Business and Marketing in College and I am no dummy.
I realized pretty quickly that this business could truly be a CASH COW!
It's HEALTHY and It's CHOCOLATE!  EVERYONE LOVES CHOCOLATE!
In fact this HEALTHY CHOCOLATE could be a BLESSING TO MANY!  
BLESS OTHERS AND GET PAID?!  LOVING THIS!
So, I started my Healthy Chocolate business and have been going strong ever since because I know it makes a difference.  I am so passionate about the benefits that Beyond Healthy Chocolate can make to individuals who choose to consistently eat Beyond Chocolates.
WE ARE CURRENTLY EXPANDING IN COLORADO!
If you are interested in a Business Sharing The Healthiest Chocolate On The Planet, join us in Colorado this May!  We are always looking for customers so if you would like to order our Healthy Chocolates, visit us direct at MYCHOCOLATEVITAMINS.com or call us at 941-216-5727.
LISTEN IN TO OUR BUSINESS OVERVIEW CALL  BELOW AND THEN CONTACT US TODAY @ 941-216-5727!
Truly the best opportunity!  We are here to help you share Healthy Chocolate Company chocolates with the world.