Let's be real. Sometimes life is not that easy.
Sometimes it is downright hard. Unfortunately life happens and has its ups and downs. How we deal with life depends on if we struggle or pedal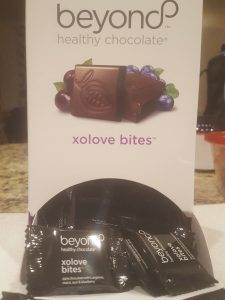 through as fast as we can knowing there is a light at the end of the tunnel. I am 53 and had a complete hysterectomy years ago so the "change" happened quickly due to surgery. That makes mood issues even more of a problem. Most of my friends 50 and up also struggle with mood issues related to menopause. We are all human after all.
What I learned about mood enhancing chocolate may help you as well. I have been eating Beyond healthy chocolates for years. They are great Belgian chocolates. Each piece is equal in antioxidants to over one pound of raw spinach, has just 1 gram sugar and is 1 net carb. It has been helpful over the years. What I did not realize was that I really should be eating the Xo Love Bites.
These chocolates have the great nutritional value of the other Beyond chocolates but these also include L-Arginine which is good for your heart and Maca which is good for mood. Not only do these taste absolutely fantastic, they truly, honestly, improve my mood pretty much immediately. I have a stash of these on hand AT ALL TIMES! It helped me so quickly that I started wondering exactly what is in Maca that was making me so darn happy and relaxed? I even had friends asking me what drugs I was on.  🙂 I was shocked by that one since it is just chocolate that I am eating. I have talked to many men anxious to buy their wives these Xo Love Bites for many reasons at our local Punta Gorda Florida farmers market. Maca also increases sex drive in men and women. Not sure if that is the reason or if it is that it makes us so darn happy. You know the saying, Happy Wife, Happy Life!
Here is some information on Maca from the article "9 Benefits of Maca Root (And potential side effects)" by Healthline.com.
"BOTTOM LINE:  Maca can improve symptoms of menopause, including hot flashes and disrupted sleep at night.
 BOTTOM LINE:  Maca may improve your mental well-being and mood by reducing depression and anxiety, especially in menopausal women."
Order some Xo Love bites, making sure to eat 3-4 a day spaced out. I have been known to eat more on a difficult day. Thankfully these are so healthy and good for you as well as low in calories that you can eat them without guilt! Life happens, life is not always easy. Some of us have more of a burden to bear than others. We all deserve to be happy. Enjoy healthy chocolate with maca. This truly is My Mood Enhancing Chocolate!
Contact Lynette Henk of Three Sons Marketing LLC, 3sons, at (941) 676-7300 or visit our website at HealthyChocolateFix.com.
Our Well Beyond member division is also open and we are expanding. If you would like to get paid to share the healthiest chocolate, call us direct at (941) 676-7300.
9 Benefits of Maca Root, Healthline.com, https://www.healthline.com/nutrition/benefits-of-maca-root#section5