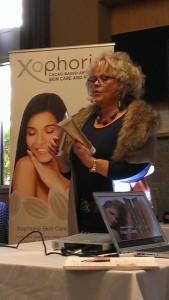 There have been so many times that I felt embarrassed about my thinning hair.  For a woman, thin and fine hair is an unspoken problem but it happens to so many of us and we need to just get it out in the open.  It is common to see men balding or with thin hair and therefore it is more accepted even though it is just as difficult for men. Women are judged on their looks and part of that package is our hair.  A woman with thinning hair can often feel embarrassed about their thin hair.
My thinning hair really became a problem when I was diagnosed with fibromyalgia and chronic fatigue.  A lot of the medications prescribed for the condition may cause problems with hair loss.  It also seems to run in my family.  All I know is that over the years I have tried pretty much every product for thin or fine hair.  I have used Nioxin, Redkin products, Wen Haircare, Nexxus and pretty much every volumizing product on the planet in hopes of making my hair look just a little bit thicker.
A new antioxidant based gluten free Beyond Beauty Cream shampoo and conditioner was just released so I decided to try it.  I used it for about a week and noticed my hair was more manageable.  I did not feel like there was a huge difference in the thickness of my hair until I recently went to my high end hair salon and had my hair done.  As soon as my hair was washed with their shampoo, it felt greasy to me almost like someone was putting solvents on my hair.  After washing my hair and conditioning, my hair looked limp.  The stylist used three different products to add some oomph and volume to my hair, even adding a powder to try to cover but I left with a very thin looking head of hair.  I just kept thinking I need to go home and wash my hair!
The next morning I washed my hair with Beyond Beauty Cream shampoo and conditioner and immediately noticed that each shaft of my hair seemed thicker.  I was quickly able to style my hair with Aquage sea salt texturizing spray and I was ready to go. I did not require the three products and my hair looked like it had so much more volume and thickness. It was then that I realized the night and day difference because of shampoo.  We need to consider that part of the reason we suffer from fine and thin hair may actually have something to do with the products we are using on our hair.  I was shocked to find out that solvents are used in many fine shampoos.  No wonder my hair needed help!  Don't just listen to me, watch the video below and hear Dr. Gordon Pedersen, anti-aging expert share how shampoo does make a difference.
If you, a friend or a family member is dealing with fine or thinning hair, I urge you to immediately order and try this new breakthrough Beyond Beauty Cream shampoo and conditioner.  What a Christmas gift this would be for anyone suffering with this problem.  When I price out everything I have tried, all the products and special shampoos etc, I am more than glad to pay for this. In the long run, I am sure it is much cheaper.   Even better I am able to use a dime sized amount of shampoo on my shorter hair as compared to the 17 pumps needed for Wen Conditioner, which did not help that much.
If you prefer to order wholesale, you can also qualify for our buy 2, get 1 free deal for black friday.  Ordering wholesale requires a membership just like Costco or Sams, but the savings is amazing.  Even better, you can get paid to share this and healthy chocolate products with others.  It is the best job I have ever had.  This is a great time to stock up on products through 12/1.  Any questions, just give me a call.  I am Lynette Henk, XO consultant.  I can be reached at 941-216-5727, at [email protected] or at LiveForChocolate.com.