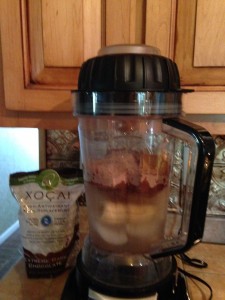 I was thrilled with my one week weight loss results.  I had decided I would only weigh myself once a week.  I did my weekly weigh in and confimed I lost 3 pounds in the first week.  I feel I am off to a very good start.  I love the fact that when I have a craving I can eat chocolate and not feel bad.  I also felt I have had more energy this past week.  The picture on the left is my shake before I turned on the blender so you can see what I add.  I included a cup of ice, a cup of water, a full frozen banana and a teaspoon of peanut butter along with 2 scoops of the XO meal replacement shake.  It tastes fantastic!
I have been taking the dog for a walk and exercising with the Wii Fit plus program.  Remember the old Wii systems?  Well, the kids were not using it so I went back and started using the Wii Fit programs again.  I really loved the step program and especially the ribbon parade.  Who knew that could be so much fun.
If you are looking to lose weight, this may be just the diet you have been looking for.  You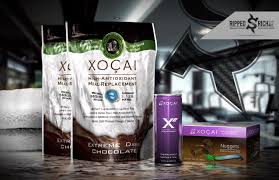 can order the RIPPED & RICH pack for just $169.95 SHIPPED!  This includes enough of the XO meal replacement shake to make 28 meals or 56 snacks, 12 of the Xe energy drinks and a small 1/4 size box of Chocolate nuggets for snacking.  I love the free website that is included which gives you all kinds of exercise options and a menu plan with gluten free and other healthy recipes.  If I can do this, so can you.  Join me!
I am Lynette Henk.  I can be reached at 941-216-5727, at [email protected] or at GetRippedandRichNow.com.