You know you want to lose the weight but you are tired of all the crazy recipes you have to make and frozen dinners that don't have the nutrition that your body craves.  I can relate.  I went through that as well but then I found the Chicago Chocolate Diet.  The great thing about the Chocolate Diet is just how easy it is to make.
Right now I am replacing two meals a day with the Beyond Chocolate Protein shake.  These are super filling 21 grams of protein high antioxidant shakes.  One fills me up for four hours.  There are many yummy favorite recipes but my all time go to shake recipe is the Peanut Butter Banana Chocolate Shake.  It is so good!
Peanut Butter Banana Chocolate Shake
1/2 frozen banana
1/2 tsp. peanut butter
1 cup ice
1 cup water
2 scoops Beyond protein shake
Blend and enjoy!!!
This diet was so successful that it was actually featured on the cover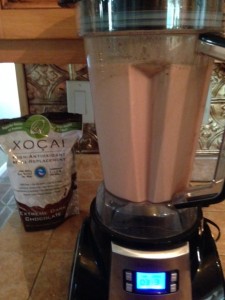 of the American Journal of Bariatric Medicine.   In the study, the average participant lost 31 pounds in just 12 weeks as well as 5 inches off the waist.  Amazing success and a healthy option to lose weight.  The best part?  You can enjoy Beyond chocolate squares for cravings or snacks.  My favorites are Xobiotic and Power Squares.  One power square is just 33 calories!!
I am Lynette Henk.  Join me on the Chicago Chocolate Diet.  I can be reached at 941-216-5727 or at ChicagoChocolateDiet.com.  I would be happy to email you my favorite Chicago Chocolate Diet recipes as well, just email [email protected] and in the subject line post Chicago Chocolate Diet recipe.