In the video above, Dr. Gordon Pedersen explains how to get your libido back.  He goes into detail about nutrition and how there are ways you can feel even twenty years younger than your peers.  If you are tired of missing out on the spice of life, listen to Dr. Gordon Pedersen and reclaim your sex drive today!
Dr. Gordon Pedersen  graduated with a Ph. D. from the Toxicology Program at Utah State University.  He has a Master's Degree in Cardiac Rehabilitation and Wellness.  He served as the director of the Institute of Alternative Medicine and was nominated to chair the United States Pharmacopoeia Review Board Natural Products . Dr. Gordon Pedersen is an international bestselling author and is the host of the radio show, "Common Sense Medicine."  Dr. Gordon Pedersen is also the author of "A Fighting Chance."
He is an internationally renowned scientist, author, product formulator, and technical instructor.  He formulates world-class products, expertly documents their benefits, credibly communicates through scientific journals, has created international best-selling scientific tools and has been a top executive for the past 12 years.
Doctor Gordon Pedersen received his doctorate degree from the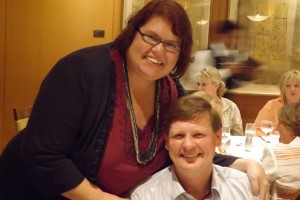 Toxicology Program at Utah State University where he received two distinguished service awards and constructed two space shuttle experiments.  In addition, he formulated over 160 nutritional supplements and personal care products.  Doctor Gordon Pedersen was one of the first to publish a double blind placebo controlled study on the benefits of protein supplementation in body builders, where he worked with Arnold Schwarzenegger.
Lynette Henk is a gold executive entrepreneur with Well Beyond Chocolate Worldwide out of Punta Gorda, Florida.  Contact her today to get your order as quickly as possible. You can also order direct at Chocolate4Lovers.com or call 941-216-5727.