I could hardly believe it when I saw this Magic Kingdom Walt Disney World Resort Sign in Orlando, Florida.  The Christmas Holiday sign reads "50 Days Til Christmas".  Immediately I feel the need to go on a major shopping spree and work on my Christmas list for friends and family.  Thankfully I already started on my list as I ordered the Beyond healthy chocolate variety box which includes four individual boxes of chocolates including Beyond nuggets, power squares, omega squares and my all time favorite Xobiotics.  If you have people on your list that have everything, why not give them the gift of health.
Everyone I know loves dark chocolate but most chocolate is cooked or dutched, turned into a chocolate liquer to get out the bitter parts. Unfortunately that means the chocolate also loses much of the original antioxidant content which makes the raw cacao so good for you in the first place.  Thankfully, Well Beyond Chocolate the makers of Beyond healthy chocolate use a patented cold pressed method that keeps in the antioxidants of the raw cacao making their chocolate an antioxidant superfood.
Order now and stock up on those Christmas gifts for the people you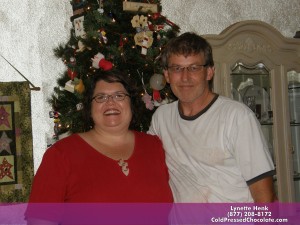 love.  Even better, order wholesale as an "Associate or Business Builder" to get the best price and free product.  An associate buys just two products and get one free on the first automatic order.  A buisness builder orders six products and gets three free on the first monthly order. You are under no obligation and can cancel anytime but as long as you keep ordering that first year, the company is going to give you a free product of your choice every third month for the first year.  Now that is a deal!
I am Lynette Henk, Beyond chocolate member.  Contact me directly at 941-216-5727 or visit GoColdPressed.com.