When I was younger I loved 3 Musketeer candy chocolate bars.  I liked the fluffy candy chocolate filled with sugar.  Now that I am older, I have acquired a taste for high end cold pressed belgian chocolate.  Only the best I say.  I mean if you are going to eat dark chocolate, you should make it the one that is actually good for you.
Almost daily I hear a news story about the benefits of chocolate.  Problem is not all chocolate is the same.  I was recently at EPCOT at Walt Disney World in Orlando, Florida when there was a Ghirardelli display during the food and wine festival.  You were able to sample the chocolate and they had posters detailing the way the chocolate is processed at very high temperatures for days.  As I was viewing the information it quickly became clear that there is a difference between chocolate that has been dutched at high temperatures for days and cold pressed chocolate that has not.  By not heating the
chocolate, the high antioxidants present in the raw cacao are available making healthy chocolate the highest antioxidant product on the planet at least that I am aware of.  The company that makes the healthy chocolate uses a patented cold pressed method which is why you don't see it in stores.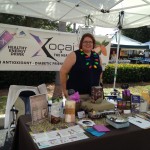 Like a fine wine, you need a fine high antioxidant dark decadent chocolate.  Order yours today and try the Well Beyond Chocolate Beyond healthy chocolates.  My favorites are the Xobiotic and the XO Love bites.  Contact Lynette Henk at 941-216-5727 for more information, email me at [email protected] or order at MyChocolateVitamins.com to get FREE SHIPPING on your entire order.  (No XO coupon code needed)