Antioxidant Protein Advantage
Jeanette Brooks was the owner of Xocai chocolate which has now been sold to Well Beyond, The Healthy Chocolate Company. Jeanette is a product of the product.  At the top left is Jeanette after her 125 weight loss and the picture below is her before.  According to Jeanette, she consumes the Beyond High Antioxidant Protein Meal Shake once or even twice a day. "Since adding this to my everyday diet, I have been able to lose 125 pounds and maintain my weight loss!" WOW!!
The Well Beyond Healthy Chocolate Company Dark Chocolate Protein Shake has 20 grams of protein and a total ORAC6 score of over 104,000 and 1,700 flavonoids per serving. This is the first and only high-antioxidant cacao shake geared to enhance weight loss efforts, supports weight loss by suppressing appetite, reduces cravings, boosts metabolism, supports mood and provides a powerful source of antioxidants.
Recent research has revealed that eating an antioxidant-rich diet can help trigger weight loss, such as the recent study done in the American Journal of Bariatric Medicine where 50 participants consumed our Beyond Protein Shake.
Why should you drink Beyond's Protein Shake? Not only does our Protein Shake taste great, but it contains the finest ingredients to help you lose weight and maintain your overall health.
Can losing as little as 10 pounds can help you reduce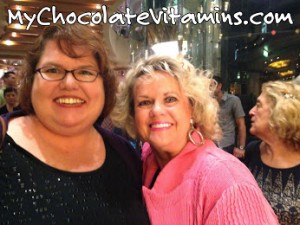 your blood pressure and reduce the strain on your heart? The American Heart Association has shown that"maintaining a healthy weight provides many health benefits. If you are overweight, losing as little as five to ten pounds may help lower your blood pressure."
Weight loss and blood pressure are just two of the many health benefits when consuming a high-quality dark chocolate. "Italian researchers discovered that dark chocolate significantly improves markers of insulin sensitivity. It can also decrease fasting insulin and glucose levels, as well as insulin and glucose responses to the glucose tolerance test"
-Living with Diabetes? Enjoy Dark Chocolate, Dr. Julian Whitacker.
I want you to be successful in your weight loss journey and help boost your overall health. I am living proof that Beyond products can help you achieve your weight loss goal and maintain a long healthy life! Beyond isn't just a chocolate, it is a lifestyle change that will continue to make you feel better, look younger and live longer!  Contact us direct at HealthyChocolateCurator.com, your Chocolate Curator!
Health Tip of the week:
Eating a 50,000 Total ORAC diet every day is easy. You can do it by following the suggestions for our high-antioxidant foods and especially by incorporating the Beyond Protein Shake into your daily diet. It's super high in antioxidants and is proven to help lose pounds, boost energy and make you feel great.
I am Lynette Henk of Three Sons Marketing LLC and I am currently losing weight on the Beyond chocolate diet protein shake.  Join me and let's lose this weight once and for all just like Jeanette.  I have lost nearly 12 pounds in the last 3 weeks.  We CAN do this!
You can reach Lynette Henk at 941-216-5727, at my email address [email protected] or at my website MyChocolateVitamins.com.  All customers are eligible for the best wholesale price on products, free shipping and eligible for Healthy Chocolate rewards every 3rd month for the first year when you order monthly!  (no coupon or discount code is required)  Get started with the protein shake and nuggets or power squares for cravings.  To replace one meal a day, you will need 2 bags of shake for a month.  To replace two meals a day, you will need 4 bags of shake.   I would be happy to email you yummy healthy chocolate shake recipes including creamy peanut butter banana, my favorite.