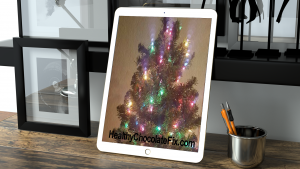 Christmas is nearly here. It is already December 16th and time is flying by. If you don't have your Christmas shopping done yet, it can be stressful trying to figure out last minute gift ideas for family, friends and work associates. Trying to guess sizes of loved ones, their design style and taste or even what kind of foods they may like can be challenging and nearly impossible. When it comes to food, how are you to know if they are on a special diet, if they eat gluten free, need diabetic friendly foods, if they are vegetarian, eat dairy free or are simply watching their calories and their health. These questions and more make it beyond difficult to figure out a last minute Christmas Holiday gift idea.
The older we get, the more we realize just how important it is to be aware of our health and pay attention to what kind of foods we eat. This makes it even more difficult to figure out gift ideas for those we love when we are concerned for their health as well. That is why I recommend a healthier option but one that is wildly popular. Healthy Chocolate!
Yep, you heard it here. Healthy Chocolate. You have probably heard on the news or in a magazine about how beneficial dark chocolate can be. However, they are usually not referring to the candy chocolate you can find in your local big box store that looks pretty on the outside but is filled with waxes, processed sugars and additives. When you care about friends and family, you want the best for them.
The reason that Beyond Healthy Chocolate is so good for you has to do with the ingredients used to make it and how it is processed. When you cook the chocolate for long periods of time, you lose much of the antioxidant and flavanoid content, (the good stuff all the chocolate studies refer to)which is not ideal. It would be like cooking your vegetables for an extended time and hoping their was still some nutritional value left. Beyond Healthy Chocolate actually owns the rights to the words healthy chocolate. In fact, they are the only Healthy Chocolate. Every single box of Beyond Healthy Chocolate tells you the antioxidant value and flavanoid value per piece. When I compare, I find that most of the Beyond Chocolates are at least 8 times more beneficial, than any other chocolates I have found on the market. In addition, these chocolates are low calorie and taste amazing. The average Beyond Healthy Chocolate is just 30-35 calories per piece!  The best part is most of our chocolates are vegetarian, diabetic friendly, gluten free and they are all low calorie making it easy to find a chocolate that most can enjoy
This is medicinal so you will want to eat them regularly.
Antioxidants stay in your system 4-6 hours so it is vital that you keep eating healthy chocolate. I recommend you eat at least 4 pieces a day starting in the morning and ending late in the evening. When you keep track of how you feel, you may notice benefits from incorporating chocolate. Watch for improved mood, energy, sleep, less pain. Jot it down on a note pad so you can keep an eye on any benefits over a 60 day period. That is usually long enough to notice some benefit. For me, this chocolate has been lifechanging and has helped me deal with the pain and fatigue from Fibromylagia and Chronic Fatigue. When you start reading about the benefits of chocolate, you will wonder why you did not start eating Beyond Healthy Chocolate before.
So hurry up and order Beyond Healthy Chocolate for friends and family. Be sure to get some for yourself as well. Those who order a subscription of healthy chocolate monthly, will be eligible for FREE PRODUCT every third month for the first year equal to your monthly order. It also guarantees you the most affordable price. Shipping is also free!
You can order 1/2 a box or a full box for your loved ones. A full box will last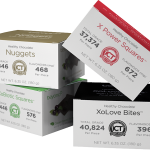 a month eating approx. 4 pieces of chocolate a day, the amount recommended. My favorites are Xobiotic Squares and the Xo Love Bites which are absolutely delish! If you are looking for a smaller gift idea, I recommend that you order the variety pack which includes 4 small gift box sized boxes, 1 each of Xobiotic Squares, XoLove Bites, Power Squares and Nuggets. This gives you the opportunity to give four smaller gifts of Healthy Belgian Chocolate!
Be sure to order the subscription and have the next order for yourself. This way you will qualify for the free product every 3rd month.
You can also reach Lynette Henk of Three Sons Marketing LLC at (941) 676-7300. We are here to help!!