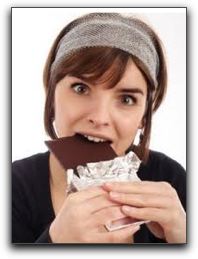 In June, Healthy Chocolate began a 12-week pilot study to test the new Beyond High-Antioxidant Dark Chocolate Wellness System. There are 50 subjects, males and females, from all over the country, ranging in age from 26-76. Each participant wants to lose at least 20 pounds (and some up to 100). As of the halfway point (July 30) the subjects were on target to reach their weight-loss goals.
The Well Beyond High-Antioxidant Wellness System Plan is as follows:
Substitute two meals a day with the Beyond Chocolate Meal Replacement Shake.
Eat three pieces of Beyond Healthy Chocolate and other healthy snacks.
Eat one high-protien/complex carbohydrate meal.
1,200 calorie limit for women, 1,500 calorie limit for men.
Exercise regularly.
Drink plenty of water.
Sleep 7-8 hours a night.
Keep a food diary.
Report weekly in an accountability phone call.
As of July 30, the group had lost a total of 1,000 pounds! , the Beyond parent company:
"The really exciting news is they are full of energy, have no muscle aches, no longer experience carbohydrate cravings, and feel better than they have ever felt.

They are even having a hard time consuming the required daily calories because they feel full and have no hunger. Everyone is losing weight and abdominal inches without even feeling like they're on a diet. When asked if they would stop the protein shakes, their response is they 'could not live without it.' When they look over their previous dieting experiences and food intake, they realize why they were gaining and not losing weight.

By recording and reporting their total daily calorie intake, they've had great success in controlling their calorie intake and remaining compliant with the weight-loss protocol. The shakes provide the necessary proteins, fats, carbohydrates, fiber, and vitamin and minerals, which give the participants two nutrient-rich meals and helps them avoid the consumption of empty calories. To date, not a single participant has dropped out of the study, which is unheard of in clinical studies. The participants are ecstatic with the success they are experiencing."
If you want to lose weight and increase your energy, the Beyond High-Antioxidant Wellness System Plan can help you also! Call me at 941-216-5727 to order the Beyond healthy chocolate weight-loss products. Yes, the same products that Kathy Ireland talked about on her show on tv. I share Beyond Chocolates with interested people in Punta Gorda, Port Charlotte, Solar Town Babcock Ranch, Venice, and SW Florida.
You can also order direct at GoColdPressed.com .
Disclaimer: Information and statements have not been evaluated by the Food and Drug Administration and are not intended to diagnosis, treat, cure or prevent any disease. Information is provided for informational purposes and is not meant to substitute for the advice provided by your own physician or other medical professional. If you have or suspect that you have medical problem, promptly contact your health care provider.