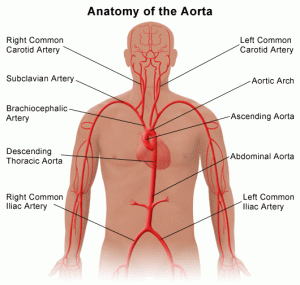 The Aorta is the blood vessel that pumps blood throughout the body. When this blood vessel pipeline weakens, it can cause a bulge, tear or rupture which can cause death if not immediately treated surgically. Unfortunately according to Harvard, these thoracic aortic aneurysms are often overlooked. "Bulges in the thoracic aorta—the upper part near the heart—are often neglected, overlooked, and misdiagnosed, reports the August 2010 issue of the Harvard Heart Letter."  Harvard goes on to say that "Thoracic aortic disease develops slowly and silently, usually without any symptoms. And it often flies under doctors' radar, in part because no single medical specialty lays claim to the aorta, leaving it in medical limbo."  This is concerning for anyone who has had a family member experience a thorac aortic aneurysm rupture.
The American College of Cardiology came out with new guidelines to help physicians better
manage thoracic aortic disease.  There is also a genetic component to thoracic aortic aneurysms sometimes called aortic aneurysm of the heart.  Thoracic aneurysms are more likely to be genetic so it is important for the immediate family and children to be tested if someone in the family experiences a thoracic aortic rupture that requires surgery or results in death.   Even if an autopsy is not done and the diagnosis is unclear and listed as a heart attack, if someone under 45 without any other risk factors has chest pain and dies shortly after, it is possible that a thoracic aortic aneurysm could be the culprit.
I am Lynette Henk, XO healthy chocolate member.  I get my antioxidants in chocolate.  Visit me at MyChocolateVitamins.com or at 941-216-5727.
Harvard Heart Letter, "Potentially Deadly Thoracic Aortic Aneyrysms Easy To Miss http://www.health.harvard.edu/press_releases/deadly-aortic-aneurysms-easy-to-miss