As I write this blog post the day after Christmas 2013, I can't help but think about a New Years Resolution for 2014.  There is often debate over the value of new years resolutions, if they actually matter, if you should have them and if it is worth it to have a resolution just to be disappointed when you give up down the road.  I for one find value in starting the new year right by setting and reaching or exceeding goals.  I think the key is to have a realistic expectation.  Saying you are going to lose 100 pounds in 8 weeks is unrealistic, saying you are going to lose 20 pounds in 8 weeks is an attainable goal.
I have done quite a bit of soul searching in 2013 and I believe I have set a realistic goal for myself.  My New Years Resolution for 2014 is to lose 75 pounds.  I know this is an attainable and realistic goal for me.  In fact, I have already lost some weight on this same program so I know for a fact it works.  I just need to lose the rest for once and for all. I also know it is not going to happen in 8 weeks.  I am in this for the long haul.  I have done my research and I have decided to lose weight on a high protein, high antioxidant Chocolate diet.  It is based on a cacao based meal replacement shake that was featured on the cover of the American Journal of Bariatric Medicine.  The included 12 week study showed the average weight loss per participant was 31.3 pounds and an average decrease in waist circumference of 5.8 inches.  Since the average weight loss was 31.3 pounds in 12 weeks, It is reasonable for me to lose 75 pounds in a one year timeframe.
I am thrilled about the Ripped & Rich program that utilizes the Well Beyond Chocolate Diet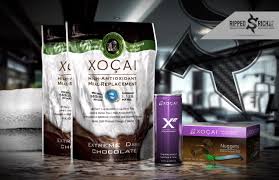 meal replacement shake along with chocolate nuggets and the Xe Energy drink.  Not only is this an affordable option for me, it includes a website where I can keep track of my goals, access recipes including gluten free options and different exercise plans depending on my specific needs.  This website is even included free when you order the Ripped & Rich Pack.  Each pack comes with 2 of the meal replacement shake, 12 of the Xe energy drink and 1 small box of nuggets.  Since I am participating in the weight loss portion, I will need to drink two meal replacement shakes a day.  Each pack includes 28 servings of the shake so I will order two of the Ripped & Rich packs for my first month.
EThose looking to meet weight loss goals like me, will order two packs of the Well Beyond Chocolate Shake and have two double scoop shakes daily.  All delivered in your smart order right to your door!
I love that by simply ordering the pack, you have access to a personal nutritionist to help you eat right, a personal trainer to help you with a customized fitness plan that meets your needs no matter what your level of fitness and goals… and then just to make it a "no-brainer" we offer you an entry into a fun 8-week transformation contest with over $30,000 in cash and prizes to anyone ready to play!  I can totally do this!!  Are you ready to join me?  Come on, lets do this!!!

Best thing is that ordering the two pack option can sign you up as an associate giving you a website and everything you need to earn some serious part or full time cash as well.  I mean honestly, as your friends, family and co-workers see our dramatic weight loss, you know they are going to be asking you how you lost that weight.  Might as well get paid to share and at the very least get your product for free.
My name is Lynette Henk.  Join me in the battle of the bulge.  Decide on your New Years Resolution and move forward.  We can do this!  Contact me with questions at 941-216-5727, email [email protected] or visit GetRippedAndRichNow.com.