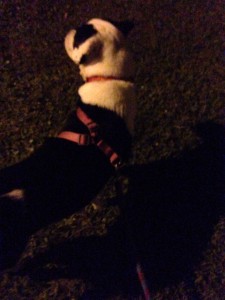 Ok, so it is 10:30 pm and I am just now taking a walk with the dog. It has been one of those days where things just did not go as planned. However, I am focused on my chocolate weight loss diet, the 2016 Healthy Chocolate Challenge and exercising, so better late than never. I have to get my 10,000 steps in as that was the goal I agreed on.  I actually dusted off my old Nintendo Wii and have been searching all over the house trying to find the Wii Fit plus.  I found the case but for some reason the CD is missing.  Hoping to find it soon as that will make a good back up plan.  There is a great step game that is perfect for the colder days.
My dog has been patiently waiting all day for her long walk. She is tired of the short little jaunts outside where we just take her walking around the cul de sac. She wants a real walk.  She is a strong pup, she would love to run if I would let her.  Considering it is late and dark, we will have a nice calm family walk.  It is cool here.  Not the snowy weather many of you have, but there is a bite and a chill in the air here in Southwest Florida.  Today was definately not a beach day.  Our low tonight is 51 degrees.  No excuse not to walk.
For those counting, I am just starting week 2 of the diet challenge.  This past week I learned just how difficult it is to eat out at a restaurant and diet.  I was at a Beyond Healthy Chocolate Conference in Fort Lauderdale, Florida and had many opportunities to eat out unfortunately.  I actually gained 1 pound!!! Not a happy camper.  Lots of training also meant less time for exercising although I did manage to get in my 10,000 steps each day.  My downfall at restaurants is not dessert.  You would think dessert or an appetizer or alcoholic drinks would be my downfall.  No, my downfall is much more sinister.  It is bread.  I just love the taste of fresh, hot, white bread with just a touch of butter.  The first restaurant to do me in was Carrabba's.  For those familiar with Carrabba's bread, you know you can't just have one piece.  You dip the nice hot, crusty bread in the heavenly olive oil and seasonings and well it is just like heaven.  My next restaurant to take my dieting over the edge was the Cheesecake Factory.  I know, you would think at the Cheesecake factory, that the dessert, the cheesecake would be my downfall,  Nope, it was the wonderfully piping hot bread and the butter that did it.  We were very hungry by the time we arrived at the restaurant so when they brought the bread basket I just wanted to devour it.  I did not devour it however it still did damage.  I had a nice grilled chicken dinner so honestly without the bread I would have done okay.
Looking back, I still did pretty good.  I have decided to add a new rule to my diet plan this year.  No bread basket.  No bread.  Just stay away from the bread!  Maybe for you it is not a problem, but for me it makes a difference in the ability to lose weight or not.  So earlier I had a delicious Beyond protein shake.  I have tried lots and lots of recipes but I always go back to my favorite which includes 1/2 a frozen banana, 1/2 teaspoon peanut butter, 1 cup ice, 1 cup water and 2 scoops or 1/2 cup of the Beyond Protein Shake.  Trust me the frozen banana is worth the effort.  Using frozen banana instead of a regular banana makes the shake thicker more like an ice cream shake.  The goal is 1200 calories a day and I am doing really well this week.  For dinner tonight I had chicken tacos made in the crock pot.  Super easy for the family and tastes so good.
I guess what I am saying is I am really glad to be back home where I have more control over what I eat.  It is easy to skip bread at home because we just don't put it out with the meal.  The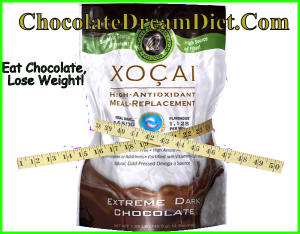 average person lost 31 pounds in 12 weeks on the Healthy Chocolate diet so I know I can do it too.  I especially love that I can have healthy chocolates whenever I have a craving.  My favorite chocolate is the Xobiotic which is 57 calories or the power square which is 33 calories.  Here is a little diet tip.  If you are watching your weight but don't want to start a full fledged diet, you are going to love this.  It is one of the best tips and people are always thrilled when they see they lost weight with this super easy weight loss tip.  Wherever you go, just make sure you have Beyond Healthy Chocolate with you.  For us gals it is easy because you can stick a couple pieces in your purse or bag but I know there is somewhere you guys can put this as well.  When you have a craving or are starting to get hungry, have a piece of healthy chocolate and a glass of water.  This will curb your cravings.  If you are getting ready to eat, make sure you eat a piece of healthy chocolate 20-30 minutes before a meal with a full glass of water.  This curbs your appetite and you will eat less.  It works for me every time.  Try it the next time you go out to lunch with your skinny friends and you will be shocked.  You order your normal meal, but this time you can't eat it all because you are too full.  Best feeling in the world and not even like a diet!  This is a must try diet tip safe for diabetics and those who are gluten free!
If you are ready to join me on the 2016 Healthy Chocolate Weight Loss Challenge, there really are two options.  Follow the diet that was featured on the cover of the American Journal of Bariatric Medicine, the "Bariatrician" or eat 3-5 pieces of healthy chocolate a day to curb cravings and 20-30 minutes before each meal.  I like to follow the diet as it was featured in the Bariatrician as the average person lost 31 pounds in 12 weeks.  Since my goal is to lose 50 pounds, this is a smarter choice for me.
If you would like free recipes, just email us at [email protected] and type recipe in the subject line.  I recommend you start with the Associate weight loss pack.  This gives you (6) boxes of the Beyond Healthy Chocolate protein shake.  This is enough shake to replace (2) meals a day for (6) weeks.  I also recommend a box of your favorite chocolates for cravings.  If you are not sure which chocolates to order, I recommend my favorite the Xobiotic a creamy chocolate or the variety pack that lets you sample the Nuggets, Power Squares, Omega Squares and the Xobiotic.  Now the super cool thing is that you can receive free product every third month for the first year when you order monthly.  This is something you want to take advantage of for sure.  Most people start with the Associate weight loss pack and some chocolate.  For the monthly order you can just order (2) of the shake one month and another Associate weight loss pack the next and alternate.  The advantage of the weight loss pack is that you get (2) free boxes of the shake every time you order it!  Also great if you are a couple losing weight together.  Don't be shocked if in addition to the weight loss you start having more energy or sleeping better.  Eating this many antioxidants is good for you, at least that is what mom and grandma say.  It is just like eating your 8-10 servings of fruits and vegetables.  How many of us actually do that?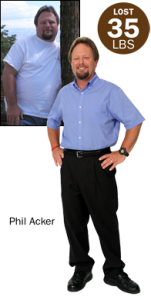 We are Lynette & Wayne Henk, Owners of Three Sons Marketing LLC.  We are here in Southwest Florida and are here to help you.  We also help those who are looking for a home based business or who want to know how to get their product free each month.  Contact us for details at 941-216-5727, visit us at ChocolateDreamDiet.com or email [email protected]