The testimonies I hear about BEYOND Healthy Chocolate products continue to amaze me.  My family has been eating Beyond Healthy Chocolate Co. Chocolate Products for over six years.  We noticed a profound difference when our autistic son started eating the products.  I personally noticed significant improvement of symptoms of Fibromyalgia and Chronic Fatigue as well as improved blood work.
HOWEVER, nothing quite caught my attention like this youtube video about Norma Miller.  Norma says she was invited to a Chocolate Party and ate the chocolate they gave her with her Dystonia symptoms improving.  When she ran out of chocolate the next morning, the symptoms started returning.  The difference is amazing.
I am so impressed by Norma Millers' story that I am forwarding it to you to check it out for yourself.  Make sure to see Norma as she talks with her Generalized Dystonia as well as after eating the Beyond Chocolates for a few months.  Share this with everyone you know!  There are so many concerns about what is in our food.  We need all the help we can get!
Worried about calories?  Our Beyond Power Square starts at just 33 calories so no worries about High Calorie Candy Chocolate.  This is the Healthy Chocolate with gluten free, diabetic friendly and vegetarian options.  No processed sugars, no waxes or fillers.  Our Chocolate is not Candy.  It is not heated.  It keeps in the antioxidants and flavonoids.  We are the Healthiest Chocolate in The World.
If you are dealing with any chronic condition, consider what eating lots of antioxidants and flavanols every day can do for you!  If you are lucky enough to be healthy and want to stay that way, incorporating Healthy Chocolates into your diet is the way to go for anti-aging.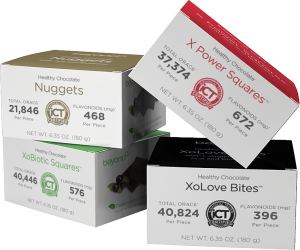 No matter if you want to start your own Well-Beyond Healthy Chocolate Co. business from your home or you want to simply order products for you and your family, we are here for you.
I highly recommend the NEW Healthy Chocolate Value Pack for just $169.95 shipped plus tax.  This comes with an assortment of our Beyond Healthy Chocolates including Power Squares, Xo Love Bites, Xobiotic Squares, Nuggets and 4 of the Xo Love Chocolate Love Bites and 4 of the Beyond Healthy Chocolate Peanut Butter Cups.  Also included is a bottle of Activ, the strongest Natural Antioxidant product we offer and a 12 pack of the Xe Energy Drinks, favorites for pretty much every guy I know including my young adult sons and my hubby.
Any questions visit Wayne or Lynette Henk of Three Sons Marketing LLC out of Punta Gorda, Florida.  We are here to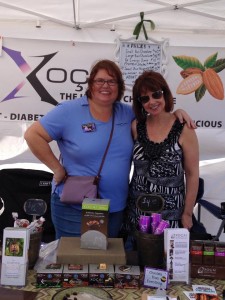 help you.  We can be reached at 941-216-5727 or at MyChocolateVitamins.com.  We hope to hear from you soon.