[or_row full_width="stretch_row" video_bg_url="https://www.youtube.com/watch?v=dOWFVKb2JqM" parallax_speed="1″ parallax_background_size="yes"][or_column width="12/12″]
[or_column_text]
On the box of my absolute favorite high end Belgian Chocolates is the following statement. "Studies on cacao have concluded that best results were obtained by consuming a daily minimum of 600-900mg of Total Flavonoids, plant-based antioxidants that help the body's cells resist damage by free radicals. The Beyond Beyond XoLove Bites™ have an astounding 396mg of total flavonoids per 6-gram piece."
Ok, so let me get this right. My absolutely favorite chocolate, this decadent, divine rich chocolate is also a superfood powerhouse too?! Woohoo! Ok. So just one piece of indulgent dark belgian chocolate, just 35 calories, offers 396mg of total flavonoids. So just 2 a day would give you 792mg flavonoids or 3 pieces would give you 1188mg, well over the daily recommended!!!
Let me just say I won't have any problem at all meeting my minimum required total flavanoids and neither will you once you try these beyond delicious Belgian chocolates. These chocolates are so good and addicting and are well beyond anything I have ever tasted. In fact they make me feel so happy and I believe they improve my mood.  Try it for yourself and see what you think. I personally love to eat them. They have this really good taste that is hard to explain. My husband loves them too! The Love Bites also have L-Arginine and Maca along with Acai and Blueberry.
All I can say is hurry and get your hands on these! I need to order more or I am going to run out!!! Theses are really good!!!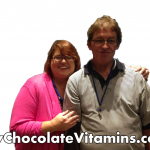 Contact us if you have any questions and want to order at 941-216-5727. If we are helping another customer, please leave a message and we will get back to you as quickly as possible. One quick tip: If you order online, check out the preferred customer option. If you order as a preferred customer and sign up for the monthly order, you will qualify for FREE PRODUCT equal to your monthly order every 3rd month for the first year. You can cancel at any time of course. I always recommend that you sign up for this, that way when you get your love bites and you realize you can't live without them like me, you won't miss out on the free product. If you don't like them, you can always contact me, or corporate and stop future orders without a fuss. 🙂
You can also order direct at our website HealthyChocolateFix.com 24/7. We are always here to help!
[/or_column_text][or_column_text]
[/or_column_text][/or_column][/or_row]