SMART PEOPLE EAT CHOCOLATE
I will put it right out there and admit it. I am a chocoholic, through and through. Not a fan of simply any brand of chocolate, the chocolate I eat is medicinal and happens to taste amazing. (yea me!) So why is it that smart people eat dark chocolate? Well likely because they have done their research. There has been a crazy amount of research on the health benefits of pure dark chocolate over the years and the pace of research does not seem to be slowing down.
The Smithsonian Mag Smart News article "Why Dark Chocolate Is Not Just Delicious But Good For Us" had simply wonderful things to say about dark chocolate. "Now, researchers have finally worked out the recipe for dark chocolate's health benefits. As the Los Angeles Times reports, chocolate-loving microbes in our gut convert part of the cocoa in dark chocolate into anti-inflammatory compounds. Some forms of cardiovascular disease are associated with inflammation, the researchers explained, and released into the body, these particles can help delay those problems. Other studies have found a connection between dark chocolate and lowered blood pressure. As the researchers point out, however, it's the cocoa in dark chocolate—not the sugar and fat—that is doing all the positive work. "Our results don't translate to a Hershey bar," John Finley, the lead researcher, told NPR."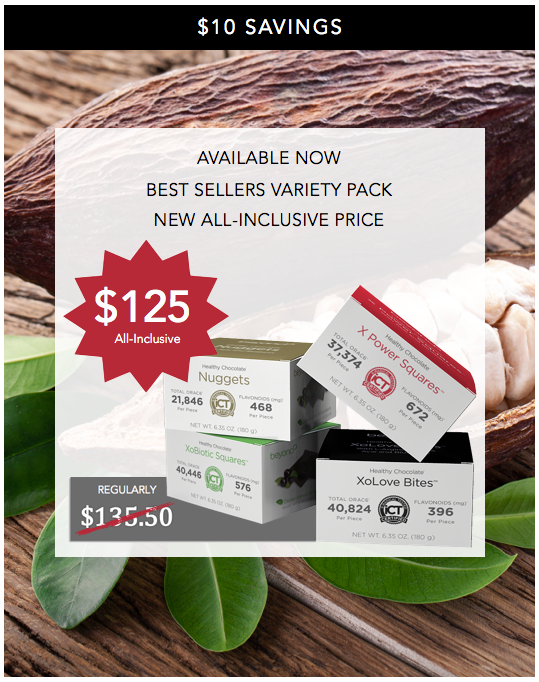 There are serious benefits with Healthy Dark Chocolate. Beyond Healthy Chocolate is not heated like candy, it has no waxes, fillers, processed sugars and does not have the calories you will find in inexpensive and even high end chocolate shop chocolates. Even better, most of beyond healthy chocolates are diabetic friendly, gluten free, vegetarian, kosher and low calorie. On top of that, this belgian chocolate tastes amazing and is sweetened with acai and blueberry. There are many varieties of beyond healthy chocolates so you might want to start out with the variety pack to decide which of the beyond xocai chocolates are your favorite. Each variety pack includes a small box of Xobiotic squares which include probiotics, nuggets, power squares and xo love bites my absolute favorite. These can increase passion in the bedroom and they actually improve my mood. Xo Love Bites also have L-Arginine and Maca and I find the taste to be wonderful. All of these chocolates run between 30-35 calories per piece! The best way to enjoy these chocolates is to have 3-5 pieces a day spaced out morning, mid day to evening to make sure your body is continually receiving antioxidants. Antioxidants stay in your body approx. 4-6 hours so it is key to keep eating them throughout the day.
Smart individuals have done their research. You can have the best of both worlds, Healthy Chocolate that is good for you and tastes fantastic.
Now is the time to start eating beyond Healthy Chocolate every single day. You and your family deserve it!
My family made Beyond beyond Healthy Dark Chocolate the priority in our family over 7 years ago. It was the best decision we ever made.
Be Smart. Change Your Chocolate. Change Your Life. Do It Today!
We are Three Sons Marketing LLC of Southwest Florida. Any questions call and ask for Lynette. If you are dealing with specific health issues and not sure which products are best to start with, or would like help placing your order, please call us direct at: 941-216-5727 if we are busy helping another customer, please leave a message and we will get back to you as soon as possible.
You can also order direct at MyChocolateVitamins.com
Read more: http://www.smithsonianmag.com/smart-news/why-dark-chocolate-not-just-delicious-good-us-180950171/#0HsP0hsfrfPw2o9W.99
http://bit.ly/1cGUiGv
Chemists discover secret to dark chocolate's Health benefits, Monte Morin 3/18/2014-LA Tomes http://www.latimes.com/science/sciencenow/la-sci-sn-secret-to-dark-chocolates-health-benefits-20140318-story.html