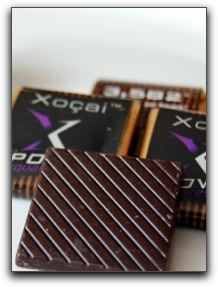 "The best way to predict your future is to create it." – Abraham Lincoln.
I believe that wholeheartedly. Do you? Are you a determined Punta Gorda businessperson who does not let circumstances limit your potential? Are you ready to really make something happen for yourself?
I am Lynette Henk. I am creating my future with XO (show-sigh). There is no other business opportunity in SW Florida that compares to the XO home business opportunity. XO Healthy Chocolate with acai berries is a 'category creator'. How many health home businesses can say that? If you were going to 'create a category', could you come up with anything as revolutionary as healthy antioxidant chocolate? And even if you could imagine something as wonderfully radical, could you do what it takes to bring it to market?
Jeanette L. Brooks, XO co-founder, made it happen. It wasn't easy. It took a lot of time, money and trial and error. But now her healthy chocolate business is exploding. You can benefit from her vision and hard work.
My favorite product is XO Power Squares. It is a hot seller in Port Charlotte. My North Port and Punta Gorda customers eat chocolate everyday. (Can you relate?) With XO, they are replacing the bad with the good. They now eat XO antioxidant chocolate in place of the waxy conventional chocolate they used to eat. One Punta Gorda XO lover said recently, "It is strange to eat chocolate without the ever-present guilt I used to feel. Now I don't need to break my habit. The chocolate monkey is off my back."
My XO team is called Power Team. We are having a sweet time sharing weight-loss chocolate with our Punta Gorda friends, family, neighbors and co-workers in Port Charlotte and Punta Gorda. (It is amazing how many new friends you make when you give out chocolate samples.) Come join us to create your own bright future!
entrepreneur Lynette Henk
Punta Gorda, Florida
941-216-5727
http://liveforchocolate.com
Create health & wealth with XO healthy chocolate products.