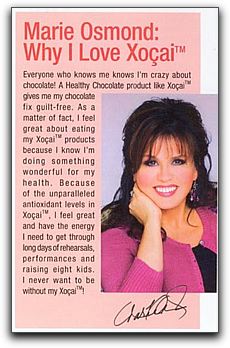 Growing up I loved watching the Donny & Marie show. It was one of my favorite shows. When I was in Las Vegas recently I was hoping I would have time to go see Donnie & Marie Osmond show but could not fit it in my schedule. I was reading the newspaper this morning and saw that Marie Osmond and Donny Osmond are going to be at the Walt Disney Theater in Orlando Florida this Saturday, June 30th.
How awesome is that!
Imagine my surprise when I found out that Marie is also a fan of healthy chocolate! I don't blame her, I am a fan as well. I mean who is not a fan of healthy belgian chocolate that tastes delicious and is actually good for you. One 6 gram piece of chocolate is just 35 calories, 1 gram sugar and equal in antioxidants to over 1 pound of raw spinach.
For those of you not aware, Well Beyond bought the Xocai healthy chocolate products. They had a vision to take healthy chocolate well beyond and they are doing a great job.
Beyond now offers the same amazing chocolate as Xocai but with an easier to pronounce name.
It's time for you to be a fan of Beyond Chocolate also!
Now is the time to order the chocolate that Kathy Ireland and Marie Osmond have talked about. Don't miss out! Questions call Lynette Henk of Three Sons Marketing LLC at (941) 676-7300 or visit HealthyChocolateFix.com
Donny and Marie Osmond, Walt Disney Theater, https://www.orlando-theatre.com/theaters/waltdisneytheater/donny-and-marie-osmond.php