Mood Chocolate?
Improve your mood with chocolate, is that really a thing? I have been reading a book called "Live Young with Chocolate" by Dr. Gordon Pedersen. According to his book, it is a thing! No wonder I always feel better when I eat more chocolate!
Remember Mood Rings?
When I was in middle school back in the 1970's, mood rings were all the rage. I remember having one and paying attention to how I felt and if the color would change. It would change often! Maybe I was moody as a child. I actually believe it is the temperature that changes with the mood ring, so not sure it can truly tell your mood. The rings are back in style, so maybe I will to try them out again, this time with chocolate. If I had a mood ring, maybe it could tell me when I needed another cocoa treat.
So what's the deal about mood and chocolate?
This is what I found about mood and chocolate in section 12, Chocolate Anti-Aging benefits, of "Live Young With Chocolate, "
"Chocolate contains phenylethylamine (PEA), which is also known as the "love chemical." In fact, it's reported that Casanova often ate chocolate because of it's aphrodisiac properties. The end result of increased PEA production is increased awareness and sense of well-being and contentment. "
"PEA is believed to be the driving factor behind chocolates fame as an aphrodisiac, as well as the feelings of excitement, giddiness, euphoria and attraction."

Dr. Gordon Pedersen, PHD, ND
Feel good snacks
No wonder so many of us feel good when we eat chocolate. It makes sense! Why not find out if you can Improve your mood with chocolate. My favorite continues to be healthy dark chocolate. I am picky because all chocolates are not the same. You really need to pay attention to the antioxidant content. The Beyond treats I eat are just 35 calories a piece, KETO friendly, low sugar and equal in antioxidants to over 1 pound of raw spinach.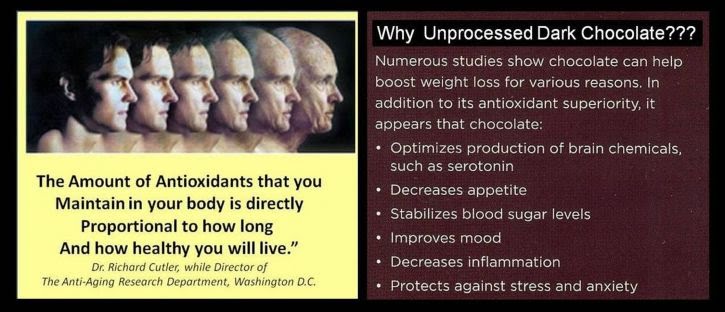 My Favorites
My absolute favorites for chocolate are the Beyond Healthy Chocolates. For me, nothing else compares. I have not found anything even close in the stores in my area, including whole foods, Amazon and other health food stores. None of the other ones had the antioxidant content found in Beyond Chocolates. They come individually wrapped so I can just stick a few in my purse or keep them in a jar nearby. I like that they tell you exactly how many flavonoids (a form of antioxidant) are in each piece. It is preference on which flavors you prefer, they offer Beyond Xobiotic square with probiotics, power square with extreme rich dark chocolate sweetened with acai and blueberry and the Xo Love Love Bite that include L-Arginine and maca. I love the fudgy taste of this one! I eat them all, and find them to be delicious.
Order here
Visit HealthyChocolateFix.com to pick your favorites. You can also reach out to Lynette at Three Sons Marketing LLC at (941) 676-7300. Three Sons Marketing LLC, MyDailyChoice affiliate. Be blessed! It is time for me to eat some more chocolate! So, what are you waiting for? Order yours today!
Live Young With Chocolate by Dr. Gordon Pedersen, 2012, Board Certified Anti-Aging Medicine, PHD, ND,
Disclaimer: These statements have not been evaluated by the Food and Drug Administration. This product is not intended to diagnose, treat, cure, or prevent any disease. Beyond products are part of a comprehensive approach to a healthy lifestyle. The content on this blog is for informational and educational purposes only and is not intended as medical advice or to replace a relationship with a qualified healthcare professional.
Product Disclaimer. These statements have not been evaluated by the Food and Drug Administration. These products are not intended to diagnose, treat, cure or prevent any disease. MyDailyChoice, Inc. assumes no responsibility for the improper use of and self-diagnosis and/or treatment using these products.