They Say It Can Free Your Mind
So what is Delta 8 THC anyway? That was exactly what I asked my chiropractor when I saw a sign about it at his office here in Southwest Florida. I had honestly never heard of it before. Most of you know me as the Healthy Chocolate girl, and It just was not on my radar before. What my chiropractor explained about Delta 8 THC had me checking it out for sure. He was recommending it to many of his patients. I was glad I asked him about it.
My Experience
Honestly, I was pretty excited to order the Delta 8 Gummies. I had a good friend who also was checking out the gummies due to her personal health issues so we were able to chat about them and our personal experience. We both had the question in our minds, So what is Delta 8 THC anyway? i was actually pretty shocked that my personal chiropractor was recommending the Delta8, He explained many of his elderly patients had been taking very strong prescription sleeping pills and this was a good alternative. He also explained you don't have to take much. My chiro said to start out with 1/4 of a gummy before bed. He recommended it for me for my health issues so I ordered it. So that is what I did. What I personally noticed after taking just 1/4 of a gummy? Nothing crazy, but definitely felt relaxed and I slept well for a change. That is a plus! 🙂
Hempworx Delta 8 Gummies
So what is Delta 8 THC anyway?
"Delta 8 provides a euphoric experience to the user, relaxing the body and expanding the mind
to a higher level of complete bliss. "
Suggested use: Take 1/4-1/2 of a gummy to establish individual tolerance."
Who Should Take CBD Products?
In addition to Delta 8, there are many Hempworx products that may better fit your needs. Check out our website and our CBD education section for details.
"Anyone that is interested in adding natural wellness to their routine should try CBD oil. The effects are subtle, and CBD is generally well tolerated. It also can be used for your furry friends! Please consult with your primary care physician prior to starting any new supplements. These products are not intended to cure, treat or prevent disease."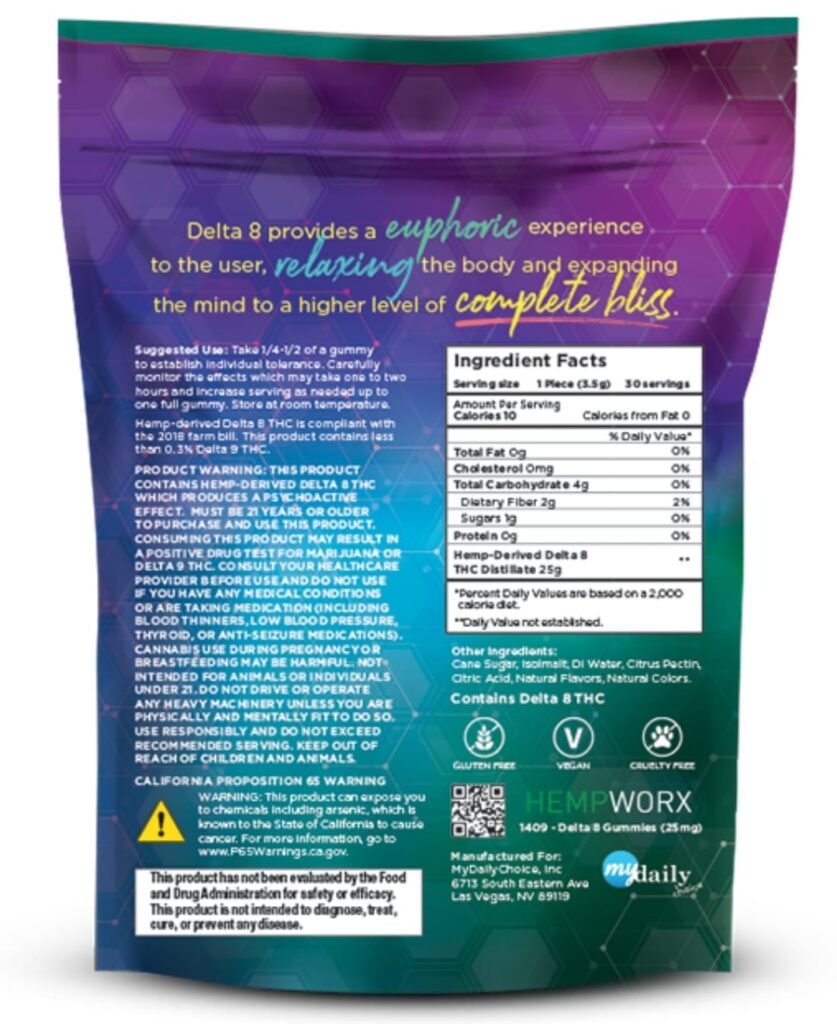 How To Order:
There are some limitations on this products so be sure to check if it is available in your area. You can order direct HERE.
This product legally cannot be shipped to Alaska, Arizona, Arkansas, Colorado, Connecticut, Delaware, Kentucky, Idaho, Iowa, Michigan, Mississippi, Montana, New York, North Dakota, Rhode Island, Texas, Utah, Vermont, and Washington. It is against company policies to ship this product to states, countries, and territories where the product is not currently being sold.
Product Warning:
THIS PRODUCT CONTAINS HEMP-DERIVED DELTA 8 THC WHICH MAY PRODUCE A PSYCHOACTIVE EFFECT. MUST BE 21 YEARS OR OLDER TO PURCHASE AND USE THIS PRODUCT. DO NOT TAKE IF YOU ARE SUBJECT TO ANY DRUG TESTING. CONSULT YOUR HEALTHCARE PROVIDER PRIOR TO USE AND DO NOT USE IF YOU HAVE ANY MEDICAL CONDITIONS OR ARE TAKING MEDICATION. CANNABIS USE DURING PREGNANCY OR BREASTFEEDING MAY BE HARMFUL. DO NOT DRIVE OR OPERATE ANY HEAVY MACHINERY. USE RESPONSIBLY AND DO NOT EXCEED RECOMMENDED SERVING. KEEP OUT OF REACH OF CHILDREN AND ANIMALS.
Product Disclaimer
MyDailyChoice does not make guarantees for products containing Delta 8 and individual results may vary. Hemp-derived Delta 8 THC is compliant with the 2018 farm bill. This product contains less than 0.3% Delta 9 THC. This product has not been evaluated by the Food and Drug Administration for safety or efficacy. This product is not intended to diagnose, treat, cure or prevent any disease.
Three Sons Marketing LLC is an affiliate of MyDailyChoice. Contact us today to get your healthy chocolate fix or find your favorite HempWorx products! We are looking for leaders to grow our team and share MyDailyChoice products and brands.
Information on Hempworx and quotes listed above are available at https://www.hempworx.com/3sonsmom.