Looking for an excuse to eat this sweet treat?
Reasons to eat chocolate, There really are so many reasons to eat chocolate. It tastes delicious. It makes us feel good. So many of us crave chocolate, me included. But, did you know that chocolate is actually good food and can make you feel good too? If you eat the right kind of chocolate, you will find it is full of antioxidants, cocoa flavonoids and polyphenols. Skip the candy and go right to the healthy chocolate.
Health Benefits Of Chocolate
To put it in perspective, one piece of the right kind of healthy chocolate is equal in antioxidants to over a pound of raw spinach. So basically, you can get the benefits of spinach in a decadent piece of dark chocolate. Now that is something that makes me want to indulge. How about you? You can tell your chocolate is healthy when it tells you the antioxidant and cocoa flavonoid content on the piece or package.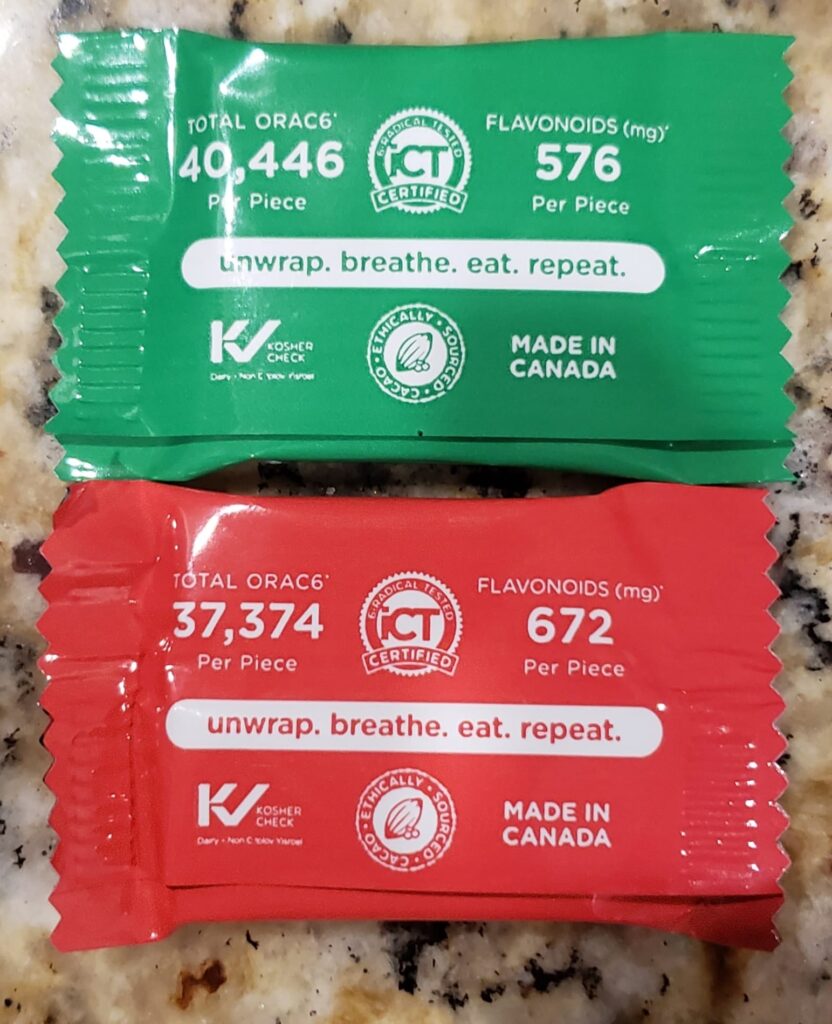 Benefits in One Xobiotic Square
One piece of my favorite Beyond Xobiotic Square has a total ORAC6 score of 40,446 and flavonoids of 576 mg per piece. This is letting you know how many antioxidants are in just one piece of chocolate. One piece is just 35 calories, 1 gram of sugar, 1 net carb and KETO. Which would you rather eat? One pound of spinach or a piece of Beyond healthy chocolate? Hard to believe something so good for you could taste this amazing.
The Love Food
Did you know that dark chocolate contains a feel good chemical called PEA that is released in the brain? PEA is known as Phenylethylamine, which is the same chemical that is released by your brain when you fall in love. No wonder chocolate is often called the "Love Drug", now it all makes sense. There are so many Reasons to eat chocolate.
Details
The best way to eat Beyond chocolates is to enjoy 3-4 pieces a day spaced out from morning to evening. This will give you the best value. If you are looking to lose weight, this diet hack will help. Eat a piece of healthy chocolate up to 30 minutes before a meal with a glass of water. This will curb your cravings and you will find you eat less. Keep track of how you were feeling before you started eating cacao. Many notice a difference. See how you feel after 30 days. I took the healthy chocolate challenge for 30 days. I wrote down my aches and pains and paid attention. It has been over 12 years and I am still eating this chocolate. Our entire family noticed a difference. There are so many Reasons to eat chocolate. Best to start now. 🙂
Reach Out
We are Three Sons Marketing LLC and we are here to help. Visit our website at HealthyChocolateFix.com. You can also chat with us or call or text us at 941.268.1354. You will save an extra $41 when you order the 120 count pack over buying each bag of chocolate individually. You can also mix and match with the Xobiotic and the X Power Squares. It's all up to you. Change your chocolate today!
Three Sons Marketing LLC is an affiliate of MyDailyChoice. 941.676.7300 or visit us at 3sonsmom.com. Click brands and choose Beyond to find healthy chocolate products. (Yes, this used to be called Xocai and Well Beyond)
These statements have not been evaluated by the Food and Drug Administration. These products are not intended to diagnose, treat, cure or prevent any disease. MyDailyChoice, Inc. assumes no responsibility for the improper use of and self-diagnosis and/or treatment using these products.