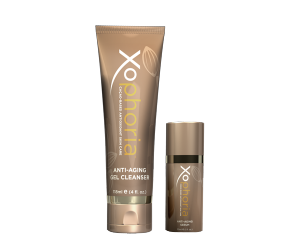 I have always had a problem with acne since my teen years.  I am 49 now and until a few weeks ago, I still had problems with acne.  I always assumed that my acne would disappear as I got older.  Instead I seemed to have adult hormonal acne.  As I got older and had a hysterectomy, I still had problems with acne.  It just never went away.  I have tried pretty much everything out there and I was shocked at the simple answer that has fixed my problem.  I have tried all the adult acne products out there, I have even tried Proactiv, Aveeno products and Olay products, all without success.
I have been eating healthy chocolate for about four years now and it has helped my health because of the increased antioxidants and the protein.  I started using Beyond Beauty Cream anti-aging skin care cream and it took care of the laugh lines and the fine lines and wrinkles I was starting to get in my mid 40′s.  Well Beyond Corporation, the makers of XO healthy chocolate and the Beyond Beauty Cream anti-aging line also came out with a cleanser and Serum but I never thought to use them.  I had so many left over products for cleansers I figured what difference does a cleanser make?
Recently I received a Free Beyond Beauty Cream kit for my recent top ten in sales which included the cleanser and the Serum in addition to the Skin Care cream that I use every day.  I started using the cleanser and liked how it felt on my skin.  I immediately noticed how clean my skin felt which was different than anything else I had used.  I used it the first time in the evening before I went to bed.  When I woke up in the morning, half of my acne was gone or significantly reduced.  I was excited.  I could not wait to wash my face in the morning and I started washing my face with the cleanser every morning and every night.  I am shocked that something as simple as a cleanser has rid my face of acne.
I don't know if I could possibly be allergic to every product on the planet, not likely, or that this is just an amazing cleanser. I imagine it is an amazing cleanser. Either way, you won't see me ever giving up this cleanser.  If you are like me, an adult that was still fighting with adult acne, this is a must try!  You will also love the skin care cream or the serum as they both working wonderfully at reducing wrinkles, age spots and overall aging.  The serum also shrinks your pores.  My skin is looking so amazing and since this is a neurocosmetic, you will also feel better, I am just so thrilled.  I had to share that something as simple as the Beyond Beauty Cream cleanser could be so life changing.  Considering all the acne breakout products I have been buying and all the cleansers, I will gladly pay for a premium product that is age defying and gets rid of my acne!  Thank you Well Beyond Corporation for the Beyond Beauty Cream line.  You have done it again!
Contact me to order your complete Beyond Beauty Cream kit that includes the skin care cream,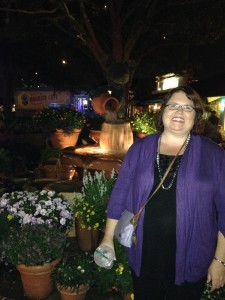 serum and cleanser or if money is tight, start with the Beyond Beauty Cream serum and cleanser pack.  As a preferred customer, Well Beyond Corporation will give you a free product every third month for the first year as long as you order monthly.  Now that is a deal.  If you start out with the complete kit, you can alternate monthly and buy the serum and cleanser one month and the Skin Care cream the next.  I literally use a dime size amount of the cleanser each morning and night, so I expect it will last for a while.
I am Lynette Henk, XO consultant.  I can be reached directly at 941-216-5727 or you can visit my site at TiredofBotox.com.  Want to find out how you can get your product for free and get paid to share Beyond Beauty Cream?  Contact me today!
Disclaimer: Beyond Beauty Cream and XO products are part of a comprehensive approach to a healthy lifestyle. XO is a super-food. XO products do not claim to treat, cure or prevent any medical condition.