It's a few days after Christmas 2017 and all I can think about is how much I over-indulged and ate desserts I should have skipped over Christmas Eve and Christms day. Just having Christmas cookies in the house is a mistake for me.I am a big fan of butternut snowballs like my grandma used to make and frosted cut out sugar cookies. I am anxious to get back to my normal workout routine and improve my diet. In talking with friends and family, we all seem to have the same idea. Problem is, giving up going out for lunch or dinner, skipping New Years Eve parties and going on a very strict low calorie diet is not the easiest thing to do. What if there was a way to make small changes that could really make a difference without having to give up going out to eat and forcing a strict diet?
Would that interest you?
Well it interests me!
So thankful I know a secret so great I wanted to share it with all my readers today. Once you find out, you will be telling all your friends, co-workers and family. I mean who would not want to improve their diet with very little work and not much effort? We all know that eating our vegetables is important. You may have grown up with mom telling you to eat all your vegetables like mine did. Maybe you are not a fan of veggies or maybe you don't have time to eat 8-10 servings of raw vegetables per day.
What if I told you there was a chocolate that could provide the antioxidant power of over one pound of RAW SPINACH in just one square of chocolate? We are talking one square of chocolate with just 35 calories and 1 gram of sugar that happens to taste absolutely amazing. Now that is worth your time.
Just so happens that Beyond Healthy Chocolate, made by Well-Beyond LLC has exactly that. In fact, I don't think there is any chocolate on the market like this. Really they truly are the only Healthy Chocolate here in the United States and Japan.
Basically you order the Beyond Healthy Chocolate in your favorite flavor and enjoy 3-4 pieces a day spaced out morning, mid day, dinner time and evening. Remember that this chocolate is Healthy. It is not candy so you are looking at low calorie (35) and just 1 gram of sugar per piece. No cholesterol, no sodium and just 2 grams total carbohydrates. With the antioxidant and flavonoids per piece off the charts, you will see why just one piece delivers the antioxidant power of over 1 pound of raw spinach. Your call, 1 pound of raw spinach 3-4 times a day or 1 piece of Beyond Healthy Belgian Chocolate 3-4 times a day.
Thankfully this chocolate tastes amazing. Even people who are not fans of dark chocolate seem to enjoy Beyond Chocolate. This chocolate is sweetened with Acai and Blueberry. If you are not a dark chocolate lover, I recommend you start out with the Xobiotic chocolate with probiotic. This chocolate is super creamy and a lighter flavor you will enjoy. Beyond Nuggets are also very popular and then of course there is my absolute favorite, the Xo Love Bites with L-Arginine and Maca.
Order yourself Beyond Healthy Chocolate and get started the easy way. Change your chocolate, change your life!
You can order direct at HealthyChocolateFix.com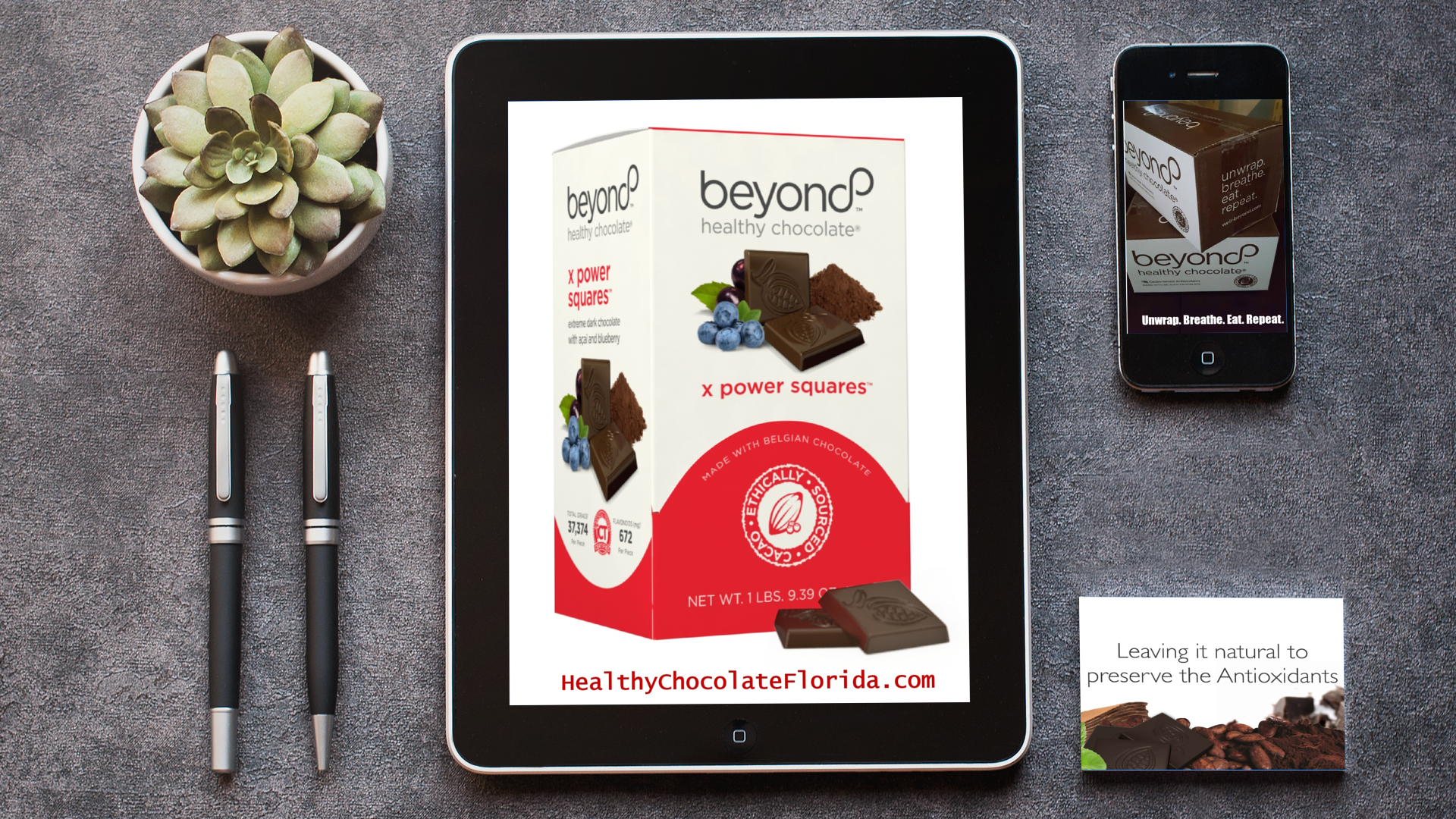 or call us at (941) 216-5727 or toll free at (877) 208-8172. We are here to help you any way we can.
If you see value in products that change lives and want to help us promote Well-Beyond Healthy Chocolate, contact Lynette Henk at Three Sons Marketing LLC. We are building a team of entrepreneurs that are changing the world for the better.
JOIN US!
If you want to get paid to make a difference sharing the healthiest chocolate on the planet, call me today and let's talk.
Lynette Henk
(941) 216-5727