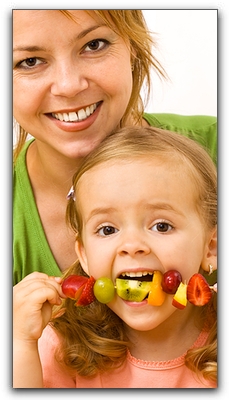 One of the best things you can do for your Venice kids is to help them love plant foods. Kids who are exposed to a wide variety of live foods when they are young are more likely to continue eating them when they are grown.
Why are plant foods so important for Venice families?

Plant-based foods have vitamins, minerals, antioxidants, fiber, and protein. Live foods are generally low-fat, low-sodium, and, if unprocessed, have less toxins than processed foods.
Let's help our Venice kids eat better than most of us Venice adults have eaten for the past three generations.
There is more to a plant-based diet than broccoli and carrots. Here are some plant-based meal and snack ideas to inspire you:
Legumes: beans, peas, lentils (hummus, black bean burritos, vegetarian chile)
Nuts and seeds: pecans, almonds, walnuts, cashews, pumpkin seeds, (sunflower seeds on salads, granola with almonds, trail mix with nuts instead of M&Ms)
Whole grains: barley, spelt, millet, rye, quinoa, brown rice (spelt bread, whole wheat pasta, stir-fry with brown rice)
Fresh and dried fruit: bananas, berries, citrus, melons (blueberry barley pancakes, fruit plate with yogurt-honey dip, dried apricots in brown bag lunches)
Veggies: (mashed sweet potatoes, spinach salad with raspberry vinaigrette, pizza with green pepper, mushrooms and onion instead of pepperoni)
One of my favorite foods is made from the super-nutritious cacao plant. It is high in antioxidants and taste like candy. To try High-Antioxidant Protein Meal Replacement, contact me today.
Lynette Henk
Punta Gorda, Florida zip code 33983
941-216-5727 [email protected]