"Don't eat processed, dutched or cooked dark chocolate", says Lynette Henk, Gold Executive Consultant with the Healthy Chocolate Company our of Reno, Nevada.  Lynette shares the Beyond healthy chocolate Company chocolates with others in the local Punta Gorda, Florida area after suffering a loss of her younger brother at the young age of 42.  My brother lived off  processed foods including frozen pizza and soda.  I knew that simple changes like eating 3 pieces of  Beyond healthy chocolate every day could make a difference and I set out to tell the world.
The key is to eat cold pressed chocolate.  All chocolate is not processed the same and it is the processing of the chocolate that makes the difference.   Candy chocolate has been

heated or "dutched" at very high temperatures.  This process gets rid of many of the benefits of the dark cocoa.  Unprocessed, cold pressed chocolate is able to keep in the antioxidant value of the chocolate.  Don't eat processed chocolates.  Order your chocolate from The Healthy Chocolate Company which has a patented process to cold press the chocolate and no competition in the industry.  The United State Patent and Trademark office has even given this company the rights to the words "healthy chocolate" as shown below.  It is very important to eat the right kind of chocolate.  It makes all the difference in the world.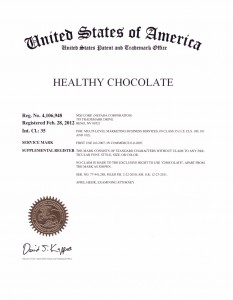 Unfortunately most of us have believed  the lies that chocolate is a confectionary, a candy that is not good for us.  Dr. Gordon Pedersen, anti-aging expert shares why the Beyond healthy chocolate nugget is a high antioxidant superfood.
Order your Beyond healthy dark chocolates with free shipping at MyChocolateVitamins.com.  You can also call us direct at 941-216-5727.  Get the best wholesale price direct at the website.  (No coupon code required for free shipping and free product)