My happy stick, the Beyond Xe TRM ™ world's first cacao-based NATURAL energy drink supplement, is launching in less than 5 days!
Finally I will be able to get my happy stick! 🙂 🙂 I have been impatiently waiting for this new product that I was able to sample a few times. I noticed benefits the second day I used it and I knew then this was going to be an awesome product for all of us.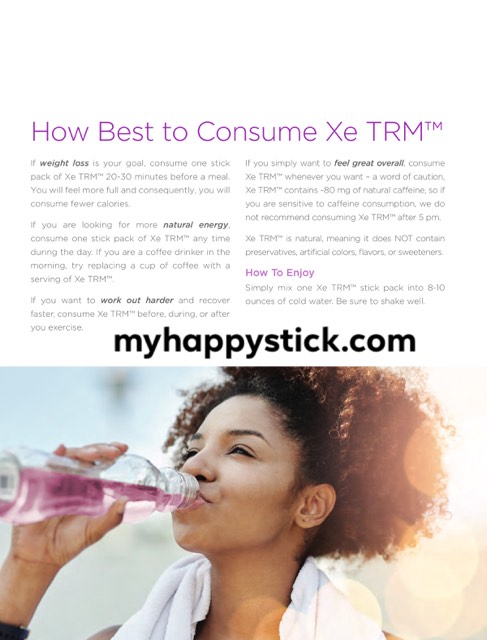 Here is why I have been so excited about Xe TRM:
It's Made with Beyond Healthy Chocolate that I love
You can fire up your metabolism and burn belly fat
Specially formulated to support weight management, improve mood, amp your energy and fight free radical damage
Take your daily health goals to the next level with our new, most innovative and revolutionary product, Xe TRM™! Xe TRM is specially formulated to support weight loss, reduce cravings, boost energy, improve your mood, and fight free radical damage. Xe TRM supports your daily wellness goals!
I for one can't wait. Realistically I have at least 50 more pounds to lose. After 3 C-Sections, I have some belly fat to burn. I am ready to lose the excess weight and improve my mood! All I have to do is mix this baby in water and I am good to go. I can just stick this in my purse and enjoy it wherever I am. I always seem to have a bottle of water with me so for me it's a no brainer. Are you ready to take your health goals to the next level?
Starting September 7th, you can order a 30 count pack of My Happy Stick Xe TRM! Feel free to reach out to me, Lynette Henk of Three Sons Marketing LLC at (941) 676-7300 or check out our website at MyHappyStick.com.
We are expanding! Well Beyond is growing and we are looking for individuals who want to share our life changing products and get paid well for it. Let me show you how you can quickly start your home based business or side hustle and get your product FREE! Call Lynette today at (941) 676-7300